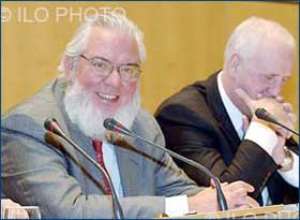 Two hundred (200) million people worldwide are expected to be unemployed by the end of this year, according to a study by the International Labour Organization (ILO).
According to the report, the global financial crisis will add at least 20 million extra people to the world's unemployed.
This will bring the total number of people without work to 210 million by the end of next year, said the ILO.
Juan Somavia, ILO Director-General said the figures showed that governments had to focus on individuals and not just banks.
He called for more efforts to help those affected to cope with unemployment.
"We have to talk about the financial crisis in terms of what happens to people and in terms of what happen to jobs and enterprises".
Mr. Somavia added that while governments were right to try to end the "credit paralysis" in the first instance, attention should now be expanded to help firms maintain jobs.
In particular, he said governments should help small companies, since when they expand, they produced more jobs.
He added that protecting people's pensions was also vital.
Returning to the global economy, he said the sectors that were likely to see the most job losses were construction, the housing market, financial services, the wider service sector, and carmakers.
In a related development, the gap between rich and poor has grown in most developed countries over the past 20 years, leading to an increase in child poverty, an organisation of 30 leading economies said in a report yesterday.
The gap between the rich and poor has grown in more than three-quarters of OECD countries over the past two decades, the Organisation for Economic Co-operation and Development (OECD), an influential policy forum for 30 top world economies said.
Economic growth of recent decades had benefited the rich more than the poor, it said in the report entitled, "Growing Unequal: Income Distribution and Poverty in OECD countries".
Across the OECD countries, the average income of the richest 10 percent of people was, on average, "nearly nine times that of the poorest 10 percent".
Canada, Germany, Norway and the United States were most affected by the widening gap between rich and poor, while Greece, Mexico and Britain had seen a shrinking gap, the study found.
The danger of poverty was greatest in countries with the widest wage gap and lowest social mobility, it said.
Children and young adults are now 25 percent more likely to be poor than the population as a whole.
From Business Desk