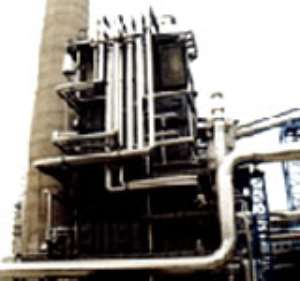 Twenty-three companies have so far been granted permits by the Ghana National Petroleum Corporation (GNPC) to operate as sub-contractors to support oil firms in the country.
Out of the number, 12 of them are Ghanaian firms with 51 per cent Ghanaian ownership, nine others are with at least 51 per cent foreign ownership, while two others are foreign firms not registered in Ghana. Eighteen other applications are being processed. .
The sub-contractors are to provide subsidiary services in transportation in both shipping and helicopter, logistics and catering, among others.
An Account Officer in Supply Chain Management of the GNPC, Mr. Albert Akowuah, who announced this in Accra on Wednesday, said 11 companies were currently engaged in oil exploration in the country.
He was speaking at a workshop organised by Ernst & Young for an investment team from the United Kingdom.
Mr Akowuah said another area which needed serious attention was the development and transportation of gas in the country.
He explained that the government had asked the oil exploration firms to focus on their main task of oil exploration.
He said there were also investment opportunities in the gas industry, and urged investors to look at that sector.
According to him, it was estimated that when drilling of oil began, 120 million cubic feet of gas would be generated from the 120,000 barrels to be drilled per day, while 250 million cubic feet of gas would be generated from 250 bpd under phase two of drilling.
Mr. Akowuah said the development of the gas industry was crucial to solving the country's energy problems.
Responding to questions regarding the sustainability of current policies under a new government, he assured them that there would be no change in policy direction in the oil sector.
The leader of the investment, Mr Sanmit Hauja, said they specialised in mobilising consortiums, to invest in key sectors such as industrial infrastructure development, energy, waste, gas and oil.
He said the consortiums looked at strategic development of the local economy, skill and self sustaining systems.
Mr Hauja said it was the late Minister of Finance and Economic Planning, Mr Kwadwo Baah-Wiredu, who whipped up their interest in Ghana through constant contacts and outlining the strengths of the Ghanaian economy to them.
He said five days before his death, he (Hauja) had spoken to Mr. Baah-Wiredu to firm up a date for their arrival in Ghana.
He said the best tribute they could pay to the late minister was to follow up and explore the investment opportunities and make a heavy presence.
The Country Leader of Ernst & Young, Mr. Ferdinand Gunn, said the company was commit¬ted to helping Ghanaians, its clients and their wider communities to achieve their potential.
He said in Ghana, the company had a staff capacity of about 100 professionals who provided integrated and specialist services to clients through assurance and advisory business services, tax services and transaction services.
Source: Graphic