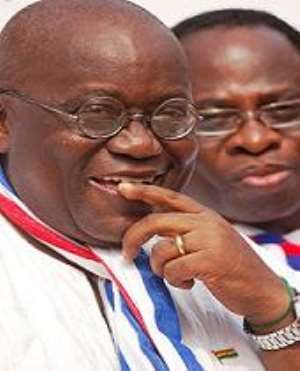 Nana Addo Dankwa Akufo-Addo, flag-bearer of the ruling New Patriotic Party (NPP) has responded to former President Jerry John Rawlings and his wife Nana Konadu's allegations concerning his legal career.
Paying tribute to Rt. Hon. Peter Ala Adjetey at the forecourt of the State House yesterday in the presence of the former first couple who had doubted his law credential during one of their boom' programmes, Nana Akufo-Addo showcased how he had practiced together with the late Speaker of Parliament in his formative years as a lawyer, winning some landmark cases.
"My first direct contact with him came after I took over, at the very beginning of my call to the Ghana Bar in 1975, UV Campbell's extensive practice on my return back home from working in France. I had the extraordinary fortune of having to cut my teeth against the leading figures of the Bar of the mid-1970s - Joe Reindorf B. J. da Rocha. Peter Swaniker Norbett Kuduawu, and naturally Peter Ala Adjetey amongst others,' Nana Akufo-Addo recalled in the tribute at the final funeral rites of Peter Ala Adjetey one of Ghana s legal luminaries and one-time President of the Ghana Bar Association.
The funeral was attended by President John Agyekull1 Kufuor; Vice President Aliu Mahama; the First and Second ladies; Ebenezer Begyina Sekyi-Hughes, the Speaker of Parliament; Justice Georgina Theodora Wood, Chief Justice; Dr. Mahamudu Bawumia, Nana Akufo-Addo's running mate; Professor John Evans Atta Mills, flag-bearer of the opposition National Democratic Congress (NDC).
The rest were Members of Parliament; Members of the Council of State; Chiefs and Traditional Rulers; representatives of political parties; the Clergy; old students of Accra Academy, the alma mater of Ala Adjetey; well-wishers and sympathizers.
Nana recounted further how he worked closely with or against the late Ala Adjetey; saying in his very first days at the Bar, he won one of his major cases - Mahama vrs Soli - now the locus classicus in company law, against Ala Adjetey, an erudite lawyer of Ghana and Africa.
An irony of history is that the defeated defendant in the case, E.A. Mahama, was the father of the current NDC vice presidential candidate, John Mahama.
The NPP f1agbearer was however gracious and humble to acknowledge the impeccable intelligence and legal prowess of Ala Adjetey in that famous case.
"I learned so much from him in that case meticulous pleading, through familiarity with the relevant case – meticulous pleading, through familiarity with the relevant case-in-law, and strong authoritative advocacy in that unforgettable voice. It was a treat to hear him make his argument, so careful and coherent. A Judge always knew that he had to be at his best to overrule or reject any argument or submission of Peter Adjetey," Nana Akufo-Addo acknowledged.
Other cases in which Nana Addo worked closely with the late Ala Adjetey under the NDC regime were NPP vrs GBC, which established the right to equal treatment on state-owned media for dissenting views: NPP vrs IGP, which upheld the right to demonstrate without a police permit: and NPP vrs A-G (Attorney General), where the Supreme Court ruled that the celebration of the 31st December coup with public funds was unlawful and unconstitutional.
Nana Akufo-Addo also eulogized Ala Adjetey, a man he described as his father, for standing up to the 11 long years of the despotic regime of the Provisional National Defence Council (PNDC) under the leadership of Jerry John Rawlings.
"He came to have a direct impact on our history. His courage as National President of the Bar led to the institution of that important event on our annual national calendar the Martyrs' Day Memorial when the judges who were murdered in cold blood by the agents or the PNDC in the line or duty on June 30, 1982, are commemorated as a result of those deeds of infamy." Nana Akufo-Addo noted in praising Ala Adjetey.
Mr Ala Adjetey, together with his national secretary, Nutifafa Kucnyehia, Nana Akufo-Addo noted, paid with political detention under the PNDC for their leadership in that faithful decision, adding that the nation owes both of them a great debt of gratitude for their courage and principle.
According to Nana Akufo-Addo his political association with Ala Adjetey developed at the Bar. "I was one of his most vocal supporters when as President or the Greater Accra Bar Association, he led with nerve and vigour, the opposition of the Accra Bar to the sudden removal of Justice Azu Crabbe by the Acheampong Military Junta," he indicated.
Nana Akuffo-Addo and Ala Adjetey together with others as well opposed Kutu Acheampong's referendum on his ill-fated Union Government proposal in 1978.
"I have lost the guidance of a valued counselor. Our nation, our government and our party have lost the services of a Ghanaian patriot, a deeply committed democrat with an unshakeable belief in the rule of law, and a vigorous promoter of a regime of scrupulous respect for human rights in our body politic. Ghana is the poorer for his loss, but his legacy will continue to enrich our journey of development in freedom," Nana Akufo-Addo concluded in his tribute.