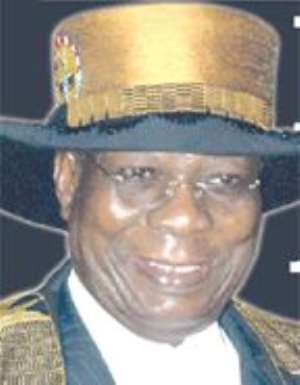 Members of Parliament (MPs) have paid glowing tribute to the late former Speaker of Parliament, Mr Peter Ala Adjetey, for the role he played in nurturing the country's parliamentary democracy.
The government has scheduled tomorrow, October 10, for the performance of a state funeral for the late former Speaker.
The MPs were contributing to a statement made by the Deputy Majority Leader and MP for Suame, Mr Osei Kyei-Mensah-Bonsu, in honour of Mr Adjetey.
In his statement, Mr Kyei-Mensah-Bonsu observed that Mr Adjetey "lived fairness, objectivity and impartiality in Parliament". He said the former Speaker was so fair that at different times, either side of the House accused him of favouring the other side.
"Not all members agreed with him all the times, yet they all always respected his sense of justice and his fairness. His credo was that even if the Majority would have their way, the Minority must always have their say," he said.
The MP stated that initially, Mr Adjetey was misunderstood by many of his own party people in Parliament but added that in retrospect, there was general agreement that that was the way to grow Parliament.
He explained that the consensus approach he promoted brought unity and combined will to achieve goals collectively, resulting in the passing of 92 bills into laws during his four-year tenure as Speaker.
Mr Kyei-Mensah-Bonsu said news of the death of the former Speaker came as a shock, stressing that "our grief is not simply about the loss of a great statesman; our grief springs from the sudden realisation that a visionary who gave so much hope to widening the horizon of democracy has been lost".
Contributing to the statement, the Majority Leader and MP for Tema West, Mr Abraham Ossei Aidooh, described the late former Speaker as a principled and disciplined man who believed in the supremacy of the law.
He noted that Mr Adjetey appreciated things done in the rightful manner and worked for the independence of parliamentary democracy.
For his part, the Minority Leader, Mr Alban S.K. Bagbin, said it was the late former Speaker's forthrightness which ensured the success of the operation of the House during his tenure of office.
Other MPs who contributed to the tribute were Kojo Armah (Evalue Dwira), Mr Hackman Owusu-Agyeman (New Juaben North), Alhaji Malik Yakubu Alhassan (Yendi), Francis Abotse (Ho West) and Christine Churcher (Cape Coast).
They were all unanimous in their contributions that the former Speaker had played his part in the country's parliamentary democracy.
Story by Emmanuel Adu-Gyamerah