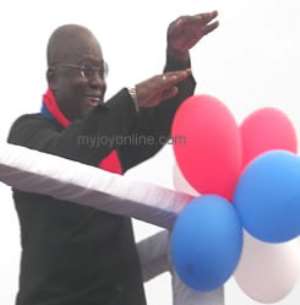 The flag-bearer of the New Patriotic Party (NPP), Nana Akufu-Addo has emphasised that no government has undertaken more massive road infrastructural development in Ghana's history than the NPP.
He said for the NPP government to have constructed between 25,000 and 27, 000 kilometres of roads throughout the country during its tenure was unprecedented.
Nana Akufo-Addo said this when he addressed a rally at Mumuni Camp in the Wassa Amenfi West District as part of a one-week campaign tour of the northern part of the Western Region.
He addressed similar rallies at Debiso in the Bia District, Asempanaye, Bonsu Nkwanta and Bodi in the Juaboso District, Asawinso, Wiawso, Nsaworfi and Akontombra in the Sefwi Wiawso District, Karlo, Dadieso and Enchi in the Aowin-Suaman District and Asankragwa and Anakom in the Wassa Amenfi West District.

The flag-bearer led those who attended the rallies to observe a one-minute silence in memory of the late Mr Kwadwo Baah-Wiredu, the former Minisfer of Finance and Economic Planning. He also introduced aspiring NPP Members of Parliament in the region.
Nana Akufo-Addo said when voted to power, he would complete the development projects initiated under President Kufuor but which could not be completed and also add more to them.
He said all roads in cocoa growing areas would be tarred to facilitate the carting of cocoa to the harbour and foodstuffs to the market centres.
Also, he said he intended to set up cocoa processing factory in a cocoa-growing area to locally process 70 per cent of cocoa produced in the country to add value to cocoa beans that were exported in the raw state.
He was of the view that poverty should not be a barrier to education, since most Ghanaians came from poor homes, saying for that reason when voted to power he would make secondary education free.

The presidential aspirant noted that the National Democratic Congress (NDC) was peddling falsehood to the effect that he would find it difficult to fulfill his promise to make secondary education free, noting that the same NDC was skeptical about the NPP making basic education free.
Nana Akufo-Addo stressed that the NPP would use the same means it employed to make basic education free and make secondary education free.
"We don't want to hear anyone saying that he/she did not go to school because his/her father or uncle did not have money to sponsor his/her education," he stressed.