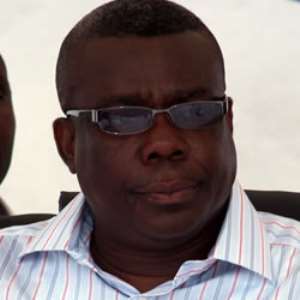 The National Chairman of the New Patriotic Party (NPP), Mr Peter Mac Manu, has described as shocking the decision of supporters of Bryan Acheampong, a main contender in the Suhum primary, to challenge at the law court, the party's decision to maintain the incumbent as its parliamentary candidate.
"This is shocking to me and I'm not aware of anything like that," he said.
The national executive committee of the NPP on Friday moved to maintain the incumbent MP and Deputy Communications Minister, Frederick Opare-Ansah, as the party's parliamentary candidate for the constituency.
The committee's decision meant that Mr Acheampong, the main contender to Mr Opare-Ansah, would step aside "for peace to prevail," but their decision seems to have hit a snag.
Mr Acheampong on Monday told Joy FM he would not push the matter any further, although he was against the party's decision.
While supporters of the IT consultant have vowed to seek an interpretation of the party's constitution as far as the matter is concerned, the national council of elders of the NPP in the constituency has remained tight-lipped, although they were in court on Monday to contest the suit.
Suhum may have been the biggest trouble spot for the NPP as three parliamentary primaries organised in the constituency for the December polls have screwed into a tie.
Speaking to Joy News, Mr Peter Mac Manu stated that he was "shocked" at the latest turnout of events, especially when Mr Acheampong's reaction on Friday did not signal an intention to sue.
Perhaps one could say the Mr Mac Manu was reading facial expressions, shoulder shrugs, general body language, to predict Mr Acheampong's next line action, but the National Chairman read wrongly.
"I was with Bryan Acheampong on Friday and Saturday and I didn't see from his face or from his demeanour anything of that nature," he disclosed.
A worse blow, according to Mr Mac Manu, is that Mr Acheampong's supporters have refused to serve him or the party, a copy of the suit.
But it appears the NPP has a strong defense, as touted by the party chairman: "Every member of the party must abide by and publicly uphold decisions of the party."
"We expect all two members of the party to abide by and publicly uphold the decisions of the party. And which decision is to put Mr Opare Ansah up as our candidate for Suhum and to get Mr Acheampong and his supporters to come on board," he stated.
Mr Peter Mac Manu condemned claims by Mr Acheampong's supporters that the party had failed to give good reasons for their decision to maintain Mr Opare-Ansah.
For him, Mr Acheampong's latest action only smacked of a misconduct which according to the constitution of the party "carries some sanctions."
Author: Fiifi Koomson