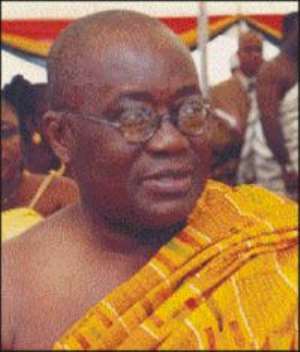 The presidential candidate of the New Patriotic Party, Nana Addo Dankwa Akufo-Addo, will be the Guest of Honour at a fund raising Kangaroo Cocktail Party in Amsterdam, on Saturday 4th October, 2008. A large crowd of Ghanaians is expected to welcome Nana Addo at the Schiphol Airport in Amsterdam. Nana is wildly believed by Ghanaians in the Netherlands to become the next president of Ghana after John Kufour. Even before Nana storms Amsterdam on Saturday, his "moving Ghana forward" message has already touched thousands of Ghanaian residents in The Netherlands.
Nana Addo will use the occasion to enlighten Ghanaians in the Netherlands on his vision to improve among others, Ghana's economic and political development.
Besides explaining his vision and the "I BELIEVE IN GHANA" message, the presidential candidate will demonstrate the Kangaroo dance in his own style to the crowd. The Kangaroo Cocktail party will attract many Ghanaians from neighbouring Belgium, Switzerland, Italy, Germany and Austria, who have booked places to attend. Nana Akufo-Addo will be accompanied by the National Chairman, Mac Manu, Allan Kyeremanteng Dr. Konadu Apraku, Dan Botwe, Jake Obetsebi Lamptey, as well as some other top party executives.
The Kangaroo Cocktail Party being organised by the NPP Holland, will also raise funds from Ghanaians resident in the Netherlands, NPP members and admirers of Ghana's true democracy and development to support the Akufo-Addo led NPP's campaign bid to win the December, 2008 election in Ghana.
The much publicised cocktail party will be held at the atrium of the Cultural Eductieve Centrum (CEC) in Amsterdam. Starting at 14.00 till 18.00 pm. Ghanaian Gospel artiste, Emilia Enin, Ohemaa Mercy and some local youth rappers will add to the amusement at the event.