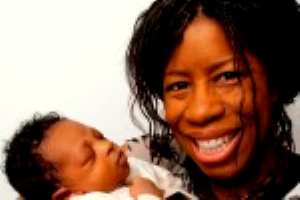 The first African Caribbean mum to donate her baby s cord blood
A ground-breaking cord blood bank and research institute will throw a lifeline to thousands of patients waiting for crucial transplants. The Anthony Nolan Trust Cord Blood Bank in Nottingham will store vital stem cells from the blood of new-born babies' umbilical cords, to help save lives, and pioneer new research.
Initially, mums delivering at London's King's College Hospital can donate. This will then be rolled out to maternity units across the country over the next five years.
Cord blood stem cells have been highly successful in renewing bone marrow and regenerating the immune systems of those with life-threatening illnesses including leukaemia, sickle-cell diseases, and immune deficiencies.
Whilst the research is still very much in its experimental stages, scientists are hopeful that future cord blood transplantation will help with many more diseases.
Cells donated to the Cord Blood Bank will also be available for researchers seeking treatments for a host of health problems including heart and liver conditions, diabetes and auto-immune disease.
The Anthony Nolan Trust charity first expanded into cord blood five years ago, by sourcing donations from overseas. Last year, it matched and imported stem cells for 58 UK transplant patients. With the new cord blood bank, the charity aims to store around 50,000 cord blood units by 2013, of which 20,000 would be suitable for transplantation, and 30,000 for research.
Donation is simple, ethical and free. After birth, a doctor or midwife will collect blood from the placenta and umbilical cord using a needle connected to a sterile bag. This takes minutes and is then transported to the cord blood bank for tissue typing and storage.
50 mums have so far donated at King's College Hospital. Due to lack of donors with their tissue type, African Caribbean patients often find it hard to find a stem-cell match. The first African Caribbean mum to donate her baby's cord blood is Paulette Simpson who gave baby Ethan's blood to the project in January when he was born at King's hospital.
Terie Duffy, Midwife Cord Blood Coordinator, at King's College Hospital, has been collecting cord blood herself and training other midwives in collection. She said:
"We have been careful to ensure that collecting the cord blood has not intruded on labour or birth, and is a positive experience for every mum."
Professor Alejandro Madrigal, Director of Research at The Anthony Nolan Trust, said:
"Our accompanying research programme aims to explore the potential use of cord blood stem cells in other areas such as cardiology"
Source: www.iamcolourful.com
Leukaemia is cancer of the blood. For further information about Leukaemia, visit www.dwib.org