University Of Ghana Honours Docia Kisseih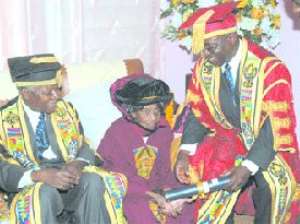 The University of Ghana yesterday conferred a Doctor of Laws (Honoris Causa) degree on Dr Docia Angelina Naki Kisseih, a social worker, for her contribution to public service at a special congregation at her North Labone residence in Accra.
The occasion also marked the 89th birthday of Dr Kisseih, a nursing/midwifery educator and an administrator, who was born on August 13, 1919 at Manya Krobo in the Eastern Region.
The event formed part of the special congregation held on Monday during which the former United Nations (UN) Secretary-General, Busumuru Kofi Annan, was inducted into office as the Chancellor of the University of Ghana, Legon.
Dr Kisseih is the first Ghanaian nurse to obtain a doctorate degree from the Boston University in the United States.
She was President of the Ghana Registered Nurses Association (GRNA) for 10 years (1960-1970), a member of the Board of Directors of the International Council of Nurses from 1969 to 1973 and the first vice-president from 1973-1977, among other positions locally and internationally.
The Chairman of the Council of the University, Mr Tony Oteng-Gyasi, presented the degree on behalf of the Chancellor of the university, Mr Kofi Annan.
He said the university recognised the contributions of people who had distinguished themselves in their various fields of endeavour no matter how old they were, adding that it was not too late to recognise the contributions of Dr Kisseih to nursing practice.
A citation read by Mr A.T. Konu, Registrar of the university, said Dr Kisseih started her professional career as a staff midwife in 1943 and held various high-level positions in the nursing service until she attained the topmost position of chief nursing officer in 1961.
It said she held the position until 1974 when she retired from the Civil Service, adding that "in 1975, you joined the Department of Nursing of the University of Ghana as a lecturer, and was promoted senior lecturer in 1980 and retired in 1981".
"As a chief nursing officer and head of the country's nursing service from 1961 to 1974, and against strong opposition and the pessimism that the standards of nursing education would fall following the departure of expatriate nurses, you showed initiative and with determination and strong imaginative leadership, worked assiduously to raise the quality of those standards to new heights," the citation read.
It said she was also involved in activities of voluntary organisations such as the Ghana Red Cross Society, the Ghana Girls' Guide Association, the St Johns Ambulance Association, the St John's Council of Ghana and the Manya Krobo Youth Congress.
Story by Emmanuel Bonney