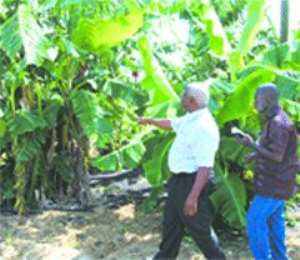 A scientific approach to commercial production of plantain and banana is yielding positive results in Ghana.
It has the potential of producing about one million plantain and banana suckers for large scale production.
The initiative, which is being pursued by the Biochemical Products Ghana Limited, aims at helping the country attain food sufficiency as the technology can be applied to other food crops such as cassava, cocoyam and yam.
According to Professor Sammy T. Sackey of Biochemical Products, by the end of the year, about 160,000 suckers of plantain and banana would have been produced.
Presently, some farmers across the country are benefiting from the initiative by way of receiving large quantities of the suckers for planting on their farms.
"That is how Malaysia made it. They came for the oil palm, and individuals multiplied them and supplied them to their farmers. That is the only way we can attain self-sufficiency in food production," he said.
Tissue culture is used for the multiplication of the suckers. The method involves culturing or growing the tissue or part of the plant in a special medium with hormones that induce the multiplication of the suckers after three weeks instead of a year's duration under natural conditions.
The seedlings, after attaining a level of growth in the laboratory and gaining roots, are then transferred to the nursery where conditions are carefully created to facilitate their gradual acclimatisation to the natural environment.
On attaining a level of growth, they are then bagged in soil and later given out to farmers on demand.
"Depending on the species that are cultivated, you get a particular number of suckers; if a particular specie produces three suckers, then each in turn produces three to give a total of nine and then each of the nine produces three suckers to give a total of 27. Within a short time one gets a large number of suckers," he explained.
He said because the process was controlled, the farmer had the advantage of planning his production.
He emphasised that tissue culture was entirely different from genetic engineering, hence the species that were cultivated maintained their natural characteristics or qualities.
He said the centre had produced nine species of plantain and seven species of banana.
According to Professor Sackey, although he received many orders from distant locations such as Nkoranza and Goaso, he was sometimes unable to meet the demand because of the cost of transporting the suckers from the Ningo Biotechnology Centre, where a modern centre with laboratory, nursery and farms has been built to produce the suckers.
Presently, the centre, which was constructed at the cost of $350,000, has a staff strength of nine, including three biochemists.
"We can produce about a million suckers, if we are able to expand our facility and employ more people," Professor Sackey told the Daily Graphic.
Story by Daniel Nkrumah