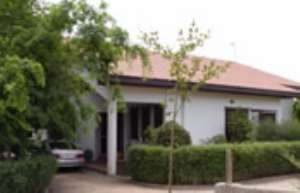 Accra in particular is in the midst of an accommodation crisis, as house and land prices spiral out of control.
Non-resident Ghanaians and foreigners and even middle class Ghanaians struggle to get their first foot on the property ladder.
For a country still aspiring to reach an average per capita income of $1,000 by 2015, family houses in central Accra are typically going for around 100 times that figure.
Three-bedroom semi-detached houses in some areas in Accra are selling for $50,000, three-bedroom detached houses with garages for $75,000, and four-bedroom semi-detached with garages for $75,000; but even these are mostly going to non-resident Ghanaians.
Whilst several years ago, the average family-size three-bedroom house at the Spintex Road area was selling for around $50,000 to $60,000, now the price is closer to $100,000. Uncompleted homes go for a fortune, as foreigners price Ghanaians out of the market, and accommodation shortages intensify.
Even modest houses in the Accra area are becoming increasingly unaffordable on a price-to-income ratio.
Since a lot of Ghanaians can not afford to buy houses, the only option for them is to rent, which is also very expensive.
The housing crisis is currently threatening not only the sustainability of the projected economic growth but also the capacity of government to confront the challenges head on.
The slow and agonizing pace of development in Ghana's housing sector underscores the vagueness of whatever policy incentive the government may lay claim to.
The private sector carries a fair share of blame for the failures in housing delivery.
For instance, in spite of the perceived huge real estate boom, there is evidence that the country's housing deficit estimated to be at 500,000 still exist because the private sector has concentrated its attention on the development of very expensive properties.
Shortages in the housing sector in the country have therefore resulted in surging rents.
According to a CITY&BUSINESS GUIDE's recent rent survey in Accra, non-residential rents in some areas increased by about 150 percent, while residential rents went up by over 180 percent this year.
The areas surveyed by this paper include Darkuman, Odorkor, Awoshie, Weija and Lartebiokorshie. Others are GICEL Estate, Weija, McCarthy Hill, Spintex Road, East Legon and Airport residential area.
During the survey, it was gathered that it takes between a month to five months to find an affordable apartment or flat in Accra.
Low to middle income earners are mostly affected. These increases have been one of the key factors driving inflation to double digits.
Some of the residents in Accra this paper spoke to were of the view that the only way to get pressure out of the housing market is to get low cost housing developments up and complement it with reforms that will compel private sector interest to build, and increase supply.
"Besides, direct government intervention is also required to ease the pressure on rent," most of them stated.
"Some may argue that we are in an open market and so rents could go one way under the current demand surge.
But it is imperative that a restriction be imposed, enforced and monitored to avoid contravention until the country gets to a point where there is a semblance of balance," Mustapha Ahmed, a resident of McCarthy Hill and a staff of Vanguard Assurance said.
Guy Boni, a teacher at Fadama Cluster of Schools and a resident of Darkuman pointed out: "It is about the best time to take advantage of the favourable foreign investor sentiments towards the country which has been boosted by improved economic conditions."
Ghana could take advantage of this momentum to drive a new record level of investment this year, particularly into the housing market, he added.
Meanwhile, government last year released 150 acres of land to a United States/Ghana partnership firm to construct 2,500 affordable housing units at Kpone, to be sold to civil servants, teachers and nurses on mortgage basis.
These flats are of various types with some having one bed-room and others two bed-rooms.
The project, which together with those in Kumasi and Borteman in the Greater Accra Region, is being funded at a total cost of over $300 million, formed part of the drive by the government to reduce the country's housing deficit, estimated at 500,000.
Government says it is constructing more than 3,000 housing units in various parts of the country to solve the housing problem.
This intervention is expected to mitigate the problem plaguing the housing sector.
Authored by: Felix Dela Klutse/Daily Guide