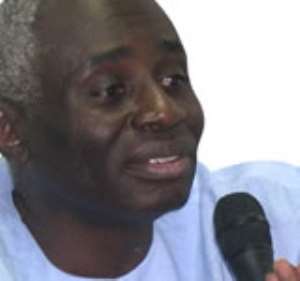 Incarcerated Tsatsu Tsikata, ex-Chief Executive Officer of the Ghana National Petroleum Corporation has applied to the Chief Justice for a new judge to hear his appeal.
Tsatsu is appealing against his conviction and five-year jail sentence for wilfully causing financial loss to the State by Justice Henrietta Abban on June 18, but he thinks the trial judge will not be fair to him.
Joy News correspondents at the court said Tsatsu who appeared in court today to move his motion for bail pending his appeal, said he was unable to do so because he had not been able to procure complete transcripts of proceedings from his trial, including the judgement that went against him from the court.
Tsatau said he needed to attach the transcripts as part of documents to the bail application and in addition, he would want the Chief Justice to rule on his request first, maintaining that he did not think the judge who found him guilty would be fair to him, given her conduct at his conviction.
Tsatsu appeared in court undefended, and engaged Justice Abban in a brief exchange as the judge notified him to move his bail application to enable her rule on it because the appeal to the Chief Justice was not before the court. Tsatsu however refused to move the motion, insisting he needed the transcripts.
The court therefore adjourned indefinitely.
With Tsatsu in court were several National Democratic Congress gurus and close associates, including Captain (retd) Kojo Tsikata, MPs Doe Adjaho, Ben Kumbuor and Professor Kofi Awoonor.
Outside the courtroom, several sympathisers gathered and chanted songs asking the court to free him. They distributed handkerchiefs with inscriptions criticising the judgement and asking that he be freed.
Tsatsu was found guilty of three counts of willfully causing financial loss to the State and another of misapplying State property. He received a five-year jail term on each, however the sentences are to run concurrently.
Author: Isaac Yeboah