Armed robber burnt to death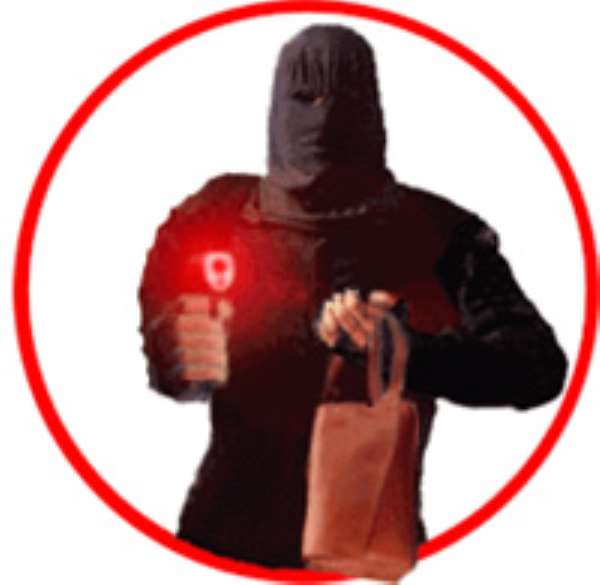 An unidentified armed robber, who robbed passengers on a bus with registration number GR 4273 D of several millions of cedis, was later burnt to death by the victims near Banda Nkwanta, in the Bole District.
According to Detective Chief Inspector John Owusu of the Police Service, the bus was travelling from Kumasi to Wa in the Upper West Region, when the robber struck after mounting a roadblock near Banda Nkwanta.
Narrating the incident to the press in Bole, the driver of the passenger bus, Salaam Azziz, said he managed to escape when he realised that the robber was looking for him to kill, after looting the passengers of their moneys and mobile phones, at about 05.00 hours yesterday.
He said he returned after one hour, and alerted another Benz Bus heading the same direction where the robber had mounted the road block.
Azziz said after alerting the Benz driver he walked towards his vehicle, having in mind that the robbery might have been over and the robber gone.
On his way, Azziz met a man partly dressed in military uniform with a bag coming from the robbery scene. The man asked him whether he was not the driver of the vehicle that was robbed.
Azziz said he immediately recognised the voice to be that of the armed robber and raised the alarm,
He said the robber threw the bag he was holding away and took to his heels, but was later apprehended and tied up by the angry people in the area and was put in a bus.
They drove to the scene of the robbery only to realise that his vehicle was not there, but he later got to know that one of the passengers had driven it to the nearest police station in Bole to report the incident.
He said the bus on which they travelling on later got to a spot where they saw that the looted Bus had involved in an accident miles from the robbery site with several of the passengers sustaining serious injuries.
On seeing the armed robber tied up, the angry passengers pounced on him and burnt him to death. The Police, who arrived later, sent the remains to Bole and later to Wa for autopsy, meanwhile most of the injured persons are on admission at the Bole Hospital.