May 26, 2008
|
General News
President Kufuor arrives in Japan for TICAD IV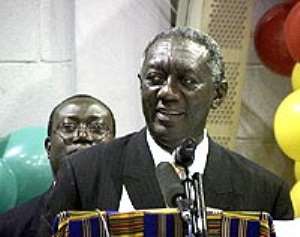 President John Agyekum Kufuor on Monday arrived
in Yokohama, Japan, for the Fourth Tokyo International Conference on African Development (TICAD).
The three-day gathering on the theme : "Towards vibrant Africa : Continent of Hope and Opportunity" is designed to keep Africa's development agenda in the forefront of the world's attention by strengthening recent positive political and economic trends.
Japan's Office of Development Assistance, Global Coalition for Africa, United Nations Development Programme (UNDP), the World Bank and Office of the
UN Secretary General's Special Advisor on Africa are the joint organisers.
President Kufuor would on the sidelines, hold bilateral talks with Japanese Prime Minister, Mr. Yasuo Fukuda and receive the President of the World Bank, the UNCTAD Secretary General and the Mayor of Yokohama, Mr Hiroshi Nakata.
He is accompanied by the Trade Minister, Mr. Joe Baidoe-Ansah, Deputy Foreign Affairs Minister, Dr. Charles Brempong-Yeboah and other senior government Officials.
TICAD was launched in 1993 to promote high policy dialogue between African leaders and development partners.
Policy recommendations at this year's conference would feed into the world's Group of Eight most industrialized countries (G8) Summit to be hosted by Japan.
From Kwaku Osei Bonsu, GNA Special Correspondent, Yokohama, Japan