Training College Heads Show Appreciation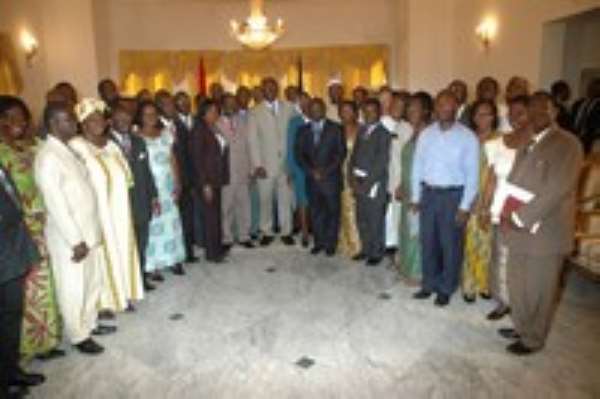 PRINCIPALS of the 38 Teacher Training Colleges in the country yesterday called on President J.A. Kufuor at the Castle to express their gratitude to him for the immense support accorded their schools in recent years.
The principals said the rate of development currently going on in their various schools have been unprecedented in the history of the country and gave the assurance that they will make the best use of the facilities.
Mr Emmanuel Kingsley Osei, President of the Principals Conference, who led the delegation, said training colleges in the country have seen so much development since President Kufuor assumed office particularly when the new education policy was introduced.
All the 38 teacher training colleges, he said, have been upgraded into tertiary institutions whilst 15 of them have been selected to specialise in Mathematics and Science.
Mr Osei said the colleges, in recent years, have seen massive construction of classroom blocks, libraries and science laboratories among others.
President Kufuor, in his response, urged teachers to be faithful and committed to their profession to ensure the successful realisation of the government's vision of developing the country's human resource base.
He said the upgrading of the colleges into tertiary institutions and the expansion of facilities were part of a grand design aimed at achieving the topmost government priority of developing the human resource of the country.
Maximum attention is being given Teacher Training Colleges because the success of the new education reform revolves around competent and dedicated teachers who have been equipped with modern skills to meet global challenges, he said.
President Kufuor noted that the current technology-driven and complex world required an efficient human resource which can only be produced by competent teachers.
We want to ensure that you produce an all rounded teacher who will be key to our human resource development. Ghana needs you so much to get her out of the bond of under development, he said and added that teachers should see themselves as the real drivers of transformation.
The President urged the colleges to justify the trust and confidence the government has reposed in them by producing quality teachers.