5 Vehicles Crash At Asuboi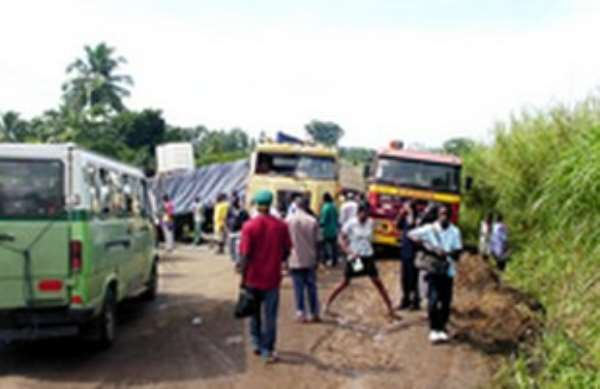 This is the scene of an accident at Asuboi, near Suhum on the Accra-Kumasi road, involving four big vehicles, carrying bags of cement from Tema to Kumasi and an Accra-bound commercial vehicle from Kumasi.
The vehicles blocked the road bringing vehicular movement to a complete halt for about 12 hours.
The accident occurred between 3.30 a.m. and 4 a.m. on Wednesday.
Chief Inspector Duodu Koranteng of the Suhum Police Station, who claimed to be at the spot when the accident happened, said there were no casualties and serious injuries.
He said it took the police many hours to clear the vehicles off the road.
According to Chief Inspector Koranteng, the passenger bus was attempting to overtake a long vehicle but veered into one of the articulated trucks conveying the bags of cement.
He said the three other articulated trucks also ran into the accident vehicles thus blocking the road.
He said the driver of the bus sneaked out of the scene and had since not been seen.