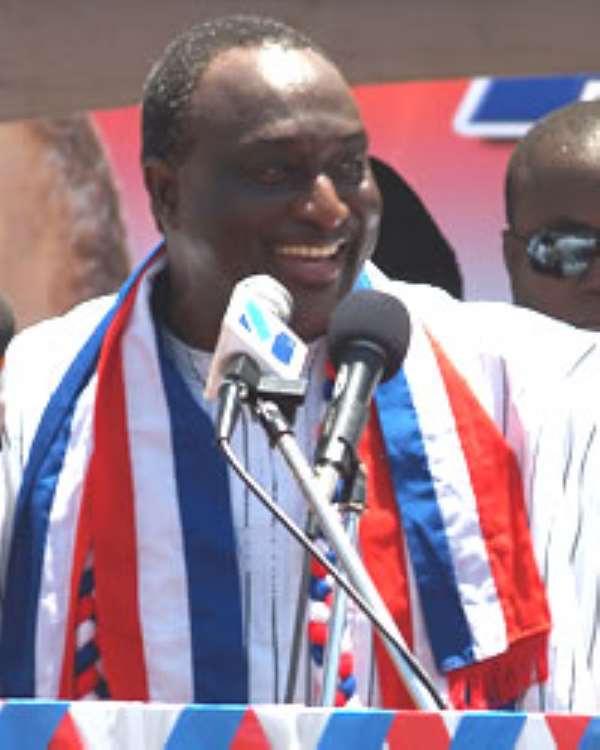 The runner-up in the New Patriotic Party (NPP) 2008 presidential race, Mr John Alan Kwadwo Kyerematen, has given the assurance that the party will forge ahead with a united front and intensively contest and win this year's elections.
In an interview with the Daily Graphic in Takoradi on Wednesday, he said, "As an incumbent government, we believe we have executed very successfully our development agenda over the last seven to eigl1t years and we are confident of victory."
Mr Kyerematen, who joined the party's flag bearer, Nana Addo Dankwa Akufo-Addo, on his campaign tour of the Western Region at Aiyinase in the newly created Ellembelle District, emphasised that the successful execution of NPP's development agenda provided justification for continuity to enable it to realise its vision of transforming the country into a middle-income one.
He also joined the flag bearer to address the Takoradi Polytechnic Chapter of the Tertiary Students Confederacy (TESCON) of the NPP.
Mr Kyerematen noted that a change in the administration of the country at this critical juncture in its history had the potential to derail the significant gains so far achieved by the government over the last few years.

He explained that a new government would have the propensity to want to start new programmes and projects, adding, "This provides a justification for continuity to enable us to fully realise the vision of transforming Ghana into a middleincome country within the shortest possible time."
"So let the NPP finish its development agenda for positive change and development," he stated.
It would be recalled that Mr Kyerematen resigned from the party on April 17, 2008, citing the failure of the leadership to take concrete action to address fundamental issues within the party which undermined its strength.
The chairman and elders of the NPP, on the advice of President John Agyekum Kufuor and the party's flag bearer, Nana Akufo-Addo, engaged in a series of consultations to deliberate over the complaints arising out of the resignation of Mr Kyerematen.
Following the consultations, the national chairman of the NPP responded to the letter of resignation, after which Mr Kyerematen rescinded his resgnation.
In his letter rescinding his resignation, Mr yerematen wrote, "Following your appeal to me to consider my decision to resign from the party, and the personal assurances you have given in our letter to address, in a timely manner, the problems I have raised on various matters and also in consideration of the passionate appeal from His Excellency the President, the flag bearer, the elders, as well as the rank and file of the party, I write to rescind my earlier decision to resign my membership of the NPP."
The letter added, "I hope this decision will contribute to the further strengthening of the party."