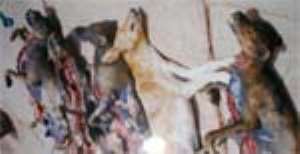 The Tamale Metropolitan Police have arrested a dog robbery gang around Kanvili residential area, a suburb of Tamale in the Northern Region.
The four-member gang was arrested in the early hours of Wednesday upon a complaint from a resident around the neighborhood who had become suspicious of their nefarious activities.
The suspects were Michael Atikasi, 18, Abdullah Atikasi, 30, Zakaria Karim, 32 and Yakubu Geezel, 45.
According to the Metropolitan Police Commander, DSP Foli Washington, the modus operandi of the gang was poisoning meat and throwing pieces of it into compounds around the vicinity each time they suspected there were dogs in the house.
The dogs, after hurriedly consuming such unwholesome meat, went wild and started running to unknown destinations.
The suspects at this point monitored the movement of the dogs till they died at a spot where they could locate them.
The police chief said the suspects afterwards took custody of the dead animals, smoked them and sold the meat to unsuspecting members of the public in the city and elsewhere.
Luck however eluded the suspects on the day of their arrest when after killing five dogs and smoking them, they were spotted by someone who had monitored their operations.
He lodged a complaint at the police station and they were subsequently arrested.
According to the Commander, charges of conspiracy to steal and cruelty to animals would be preferred against them.
They have been kept in police custody pending trial.
It was gathered that they had engaged in this illicit business for over a year now.
Some residents DAILY GUIDE spoke to believed the animals were prepared and either sold to chopbar operators within the city or sent down south as smoked "bush meat".
The apparent mad rush for dog meat in these areas has resulted in dogs being more expensive than goats and sheep of the same size in the local markets.
The situation has prompted a diversion into the trade of dogs and their meat instead of the other animals.
From Stephen Zoure, Tamale