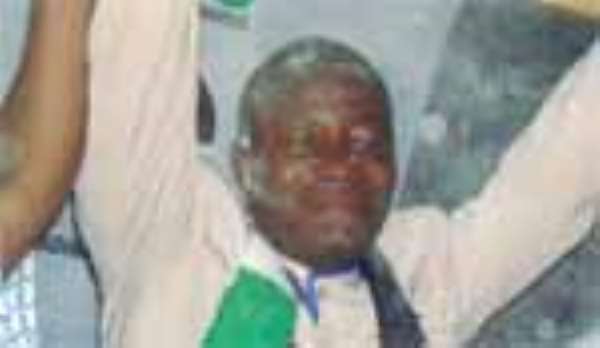 ALHAJI AMADU Sorogho, the Member of Parliament (MP) for Abokobi/Madina, last Sunday won a landslide in the National Democratic Congress (NDC) primary in his constituency to become the party's parliamentary candidate for the area in the December 7 general election.
He obtained 157 votes, representing 86.7 percent, beating his only contender, Adam Abdul Nasser, who had 24 votes, representing 13.3 per cent of the total votes cast, in a fierce contest which was witnessed by some top NDC officials.
After what seemed to be an anxious moment for the contestants and their supporters, the Electoral Officer, King Owusu Ansah announced the result, declaring Hon. Sorogho as the winner.
Scores of supporters immediately gathered around Alhaji Sorogho and carried him shoulder-high amidst singing and dancing, while the women poured white powder on him to signify his victory.
The two contestants sent signals to the New Patriotic Party (NPP) that the Abokobi/Madina constituency was not for "sale" or "rental".
Alhaji Sorogho thanked his supporters for their unflinching support.
He called for the dissolution of the two campaign groups that emerged during the campaign and indicated that a new one would be formed under the chairmanship of Mr. Nasser.
Mr. Nasser, on his part, commended all the delegates for comporting themselves and ensuring a successful election.
He said that act of discipline was a manifestation of the maturity of the delegates and a demonstration of the party's preparedness to win the December 7 general elections.
Mr. Nasser appealed to the supporters to rally behind Alhaji Sorogho to enable the party win the December elections.
By Wisdom Peter Awuku