Comment: NPP in hot waters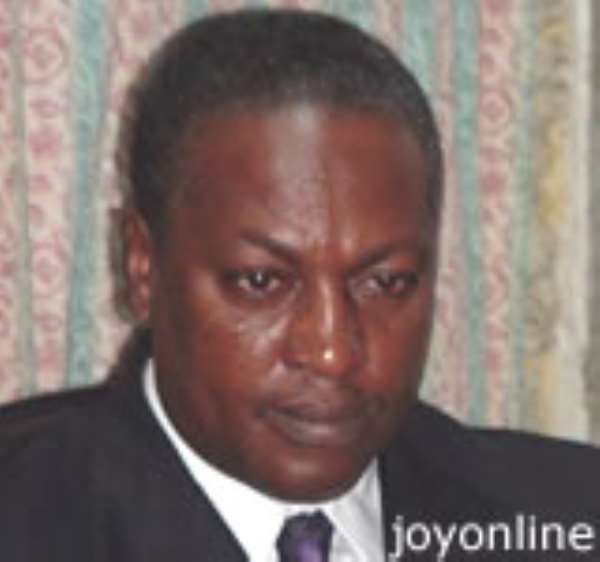 Apart from having a solid realistic blueprint with answers to societal maladies and economic tensions, political parties elect leaders with marketable appeal to ensure decisive victories.
This the NDC achieved to a great extent when it elected Prof. Mills two years ago, a decision that sent shivers down the spine of the ruling NPP, which is already overwhelmed by the challenges of governing this country- resulting in a disillusioned Ghanaian, for whom poverty and misery has become the order of the day.
To cement its determination of wrestling power from the lackluster and wobbling ruling NPP, the NDC flag bearer, finely crafted the winning ticket for his party, by his rather remarkable choice of John Mahama, as his running mate, out of a pool of equally capable personalities.
Prof. Mills, excellently demonstrated how politically savvy he has become. His ability to anticipate the most suitable personality that jells with popular expectations is refreshing. Prof. Mills, undoubtedly today, towers above all across the Ghanaian Political landscape and his present character is aptly captured in the words of the 26th President of the United States, Teddy Roosevelt who once observed, "The best executive is the one who recruits the most competent men around, tells them what he wants done, and then gets out of their way so they can do it."
Suffice it; John Mahama's PR oriented leadership blending Mills' reflective and methodical leadership is aptly the panacea to resolving Ghana's present chronic economic malaise, created by the NPP.
What heightens the confidence in a Mills/Mahama presidency is their firm belief that without God, no one can accomplish any task, especially that of leadership. Prof. Mills has consistently assured among others that good governance, united Ghana and dedicated service to country and fellowman are his heartbeat. These are the tenets that drive his aspiration to be President of Ghana. This is remarkably the expectation of the Ghanaian.
After a reflective analysis of the Ghanaian political scene, one could say that this strategic move of the NDC leader, in the choice of a running mate, plunges further the NPP into serious hot waters of a perceivable miserable loss awaiting that party in December.
John Mahama, with his natural grace, easily endears himself to one and all. His genuine humility with a singular drive for success and his affability is one for which the NPP may not find a similarity in its stable. John is so admired because his record is outstanding,
Sadly for Nana Akuffo Addo, and as it appears destined to be, he will search in vain for a running mate with similarities in John. In fact John is unfortunate news for the NPP. They can but only pretend to hold high a cool head as though the Elephant does not feel the crawling of the ant up its nostrils, signalling its demise.
John Mahama's choice has in fact turned the NDC's chances of winning the December polls from good to great. What seems to baffle the NPP is the NDC'S ability to reinvent itself in a fashion pivotal to its success in the December polls.
What is vividly promising about the two Johns is the instinct one has that they will restore a sense of integrity and decency to the office of the presidency, attributes that sadly cannot presently be said to exist.
Perhaps this food for thought for the NPP flag bearer is apt; its time for Nana to learn how to "pick his battles." He must not waste political capital on fights he cannot win. This is so since the NPP has lost all its credibility and Ghanaians now see it as damaged goods. He must also reflect on the message Arch-Bishop Duncan –Williams preached when he, Nana, visited the Action Chapel, a couple of months ago; "it can be your time but it is not your turn".
As though confirming the December verdict, the outspoken Gabby Otchere Darko, nephew and chief spokesman of the NPP presidential candidate, the other day on Metro TV's morning show, referred to Prof. Mills as President Mills. That admission by Gabby was not an error- but an intuitive expression of conviction.
Author: Richard Quashigah, NDC Greater Accra Propaganda Secretary