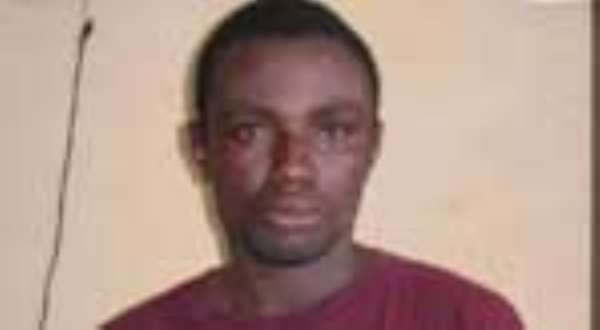 THE ASHAIMAN Police have, in an attempt to rid the town of criminals, arrested a suspected armed robber.
The suspect, Kwaku Torgbedzi, 30, a native of Dzodze in the Volta Region, was nabbed by the police following a tip-off from an unknown resident of Ashaiman.
Briefing newsmen in his office, the Ashaiman Municipal Police Commander, Superintendent Frank Awu disclosed that Torgbedzi was arrested on Wednesday at about 4.00pm, following the tip-off.
According to the Police chief, of late Ashaiman had been witnessing late-night attacks and harassments on law-abiding citizens, with the assailants wielding dangerous weapons such as locally manufactured pistols and knives.
He said the Ashaiman police, in order to make the area crime-free, adopted a strategy to combat these criminals.
Supt. Awu said during one of their operations in the Ashaiman township the police came across a locally manufactured pistol and a butchers' knife, and the items were collected and sent to the police station.
The Police boss disclosed that on Wednesday an anonymous caller telephoned the police to inform them that he knew the owner of the weapons that they had collected, and directed them to Torgbezi's hideout whereupon the suspect was arrested.
The Police Commander told the media that during interrogation the suspect admitted that he knew something about the items, though he indicated that the weapons were not his and that he could lead the police to the owner.
Currently, the suspected armed robber is in custody assisting the police in their investigations.
Supt. Awu disclosed to journalists that Torgbezi had been linked to so many robbery cases reported to them and therefore appealed to the public to come to the Ashaiman police station to identify the suspect.
From Simmons Yussif Kewura, Ashaiman