Chief Imam apologises for NDC, NPP confrontation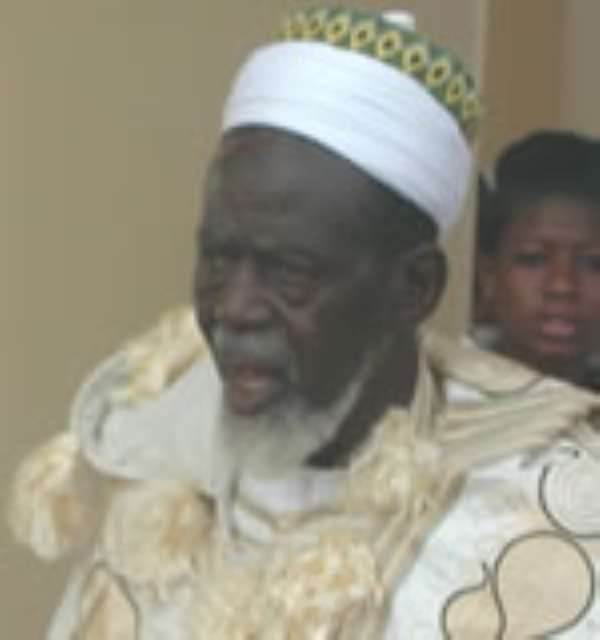 The National Chief Imam Sheikh Uthman Nuhu Sharubutu has apologized for his role in the confrontation in Friday's confrontation between supporters of the NDC and NPP at his residence in Fadama.
Sheikh Sharubutu said the clash was due to miscalculations by hisoffice, adding the visit of the flag bearers of the two parties and their supporters was meant for good.
Supporters of the Nana Akuffo Addo and Prof. Atta Mills clashed on Friday, March 28, 2008 after paying courtesy calls on the Chief Imam at his Fadama residence.
Sheikh described the clash as an 'embarrassment' since it happened on the eve of Prophet Mohammed's Birth day.
He expressed regret that supporters of the two parties used abusive language against each other.
I wish "to deny categorically reports that some people were injured in the confrontation. There is iota of truth in the reports", he stated in a speech read for him.
He challenged persons alleging that some people were injured to prove it.
Sheikh Nuhu Sharubutu did not mince words for the media describing their reports as sensational.
According to him the media over bloated the issue suggesting that there was blood bath.
The Chief Imam also noted that the confrontation was sparked by Muslim youth supporters of both leaders.
He called on the security personnel to deal firmly with any Muslim youth caught in electoral violence ahead and during the 2008 elections.
Meanwhile thousands of Muslims across the country on Saturday thronged the residence of the chief Imam to commemorate the birth of the Prophet Mohammed who was born some 1400 years ago.
Joy News' Sammy Darko reported that it was a night of feast as food and music flew with careless abandon.
The streets of Fadama, were full of Muslims with smile faces and gorgeously dressed to honour the occasion. chatting, eating whiles others dance to variety of traditional songs.
The Chief Imam Sheik Nuhu Sharubutu received dignitaries - among them the flag bearer of NDC, Prof. Atta Mills as part of the celebrations.
The period is used by Muslims to reaffirm their faith in Islam and share the good tidings of Allah.