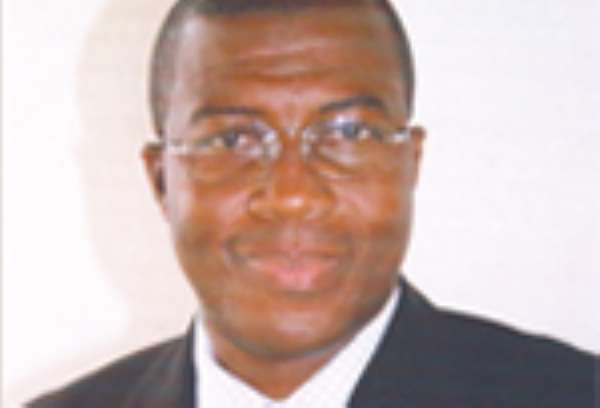 KOFI OSEI-Ameyaw, Member of Parliament (MP) for Asuogyaman Constituency and Deputy Minister for Tourism, has received perhaps the biggest encouragement in his political career.
One hundred and two out of the 113 polling station executives, who would form the Electoral College to elect a parliamentary candidate for the New Patriotic Party (NPP) in the Asuogyaman Constituency, last Tuesday held a press conference to give reasons why they would want Osei-Ameyaw to remain their MP.
The polling station executives also used the press conference to debunk allegations by one Mr. Paul Ansah Asare who had also expressed interest in contesting the Asuogyaman seat on the ticket of the NPP.
Mr. Nkrapa Lawson, NPP Chairman of the Akosombo Polling Station, who was the spokesperson at the press conference, expressed his disappointment at Mr. Ansah Asare for allegedly saying that Osei-Ameyaw had illegally camped and locked up the constituency polling station executives to prevent them from attending a meeting he, Ansah Asare had organised to declare his parliamentary ambitions.
"We are not goats for any person to lock us up in a room and tell us not to go and listen to another person. We are responsible adults who have organised the NPP at the grassroots level for several years and we choose who to listen to and who not to listen to. So it is an insult for him to have said that Osei-Ameyaw locked us up and influenced us with money.
"If this is the type of divisive politics of insults, personality attacks and lies Paul Ansah Asare would introduce to this constituency, then all true members of the NPP should advise him on the type of politics we do here. It is a healthy one that is based on relevant issues, the welfare of our people and the development of our community; anything short of that is not of the NPP," Nkrapa Lawson charged.
The red-eyed polling station executives said they became unhappy when they heard Paul Ansah on some radio stations attacking the personality of Osei-Ameyaw and rubbishing his performance as MP for the last three and a half years.
"The nominations are still open and any person who wants to contest is welcome. But for people we have not known to be party members to start to insult our sitting MP and cast negative insinuations and innuendos simply because they have picked forms is unacceptable because as far as we are concerned, one of the persons who have picked the forms has a strong NDC background and may be a mole for all you know. This is wrong and must stop.
"We elected Osei-Ameyaw and we are the best persons to judge his performance over the years because we know what manifesto he presented to us. Paul Ansah Asare cannot be the judge over a case he has a personal interest in," Nkrapa Lawson told DAILY GUIDE.
In a related development, Kofi Osei-Ameyaw last Tuesday filed his nomination forms to contest for the forthcoming parliamentary primaries.
He used the occasion to confirm his popularity among the party 'kingmakers' and the grassroots people.
Though a considerable number of polling station executives were waiting at the NPP constituency office when the MP got there, the news of his arrival attracted a lot more people who trooped to the party office to show their support for their MP.
Within two shakes of a cow's tail, the entire office was filled up and people had to stand on the streets, in wait of the MP.
The Constituency Secretary, George Azuma, who received the nomination forms, said all the requirements had been fully met and that he had never seen such a large crowd at the party office.
Osei-Ameyaw, on his part, called for an early primary in Asougyaman, and also called for a clean campaign and advised that politics of hate and insults should be avoided in the constituency.
"To the people I hear on the airwaves attacking me and insulting me, all I can say is that if he who would not appreciate the good things happening in Asuogyaman, he should not spoil my good name with lies.
"There is a proverb that when a lizard falls from a tree and lands on its stomach unhurt, it nods its head to praise itself even if no one praises it. Since you gave me the mandate as MP of this constituency, I have run a good race, and I have fought a good fight. And I hope to receive a crown as a reward for my good works; a crown that would challenge me to serve you better and a crown which would encourage our generation to know that every good work attracts a reward.
"Once again, I ask you to give me the mandate to serve you to continue what we started together. And even as I am very sure you would not let me down, I am also assuring you that I would not let the people of Asuogyaman down and together, we shall build our community.
" I ask for your mandate to continue with the micro loans scheme I am financing from my own pocket; I ask for your mandate to continue with the mobile clinic I have introduced; I ask for your mandate to continue with the provision of pipe-born water ; I ask for your mandate to continue with the streets lights project I am financing from my own pocket; I ask for your mandate to continue with the scholarships, the free apprenticeship and vocational training, the building of market centres, the sponsorships, the football and sports clubs and the succor you know I have always provided," Osei-Ameyaw stated.
His speech was cut short by the crowd who would not allow him speak as they kept interrupting with shouts that the MP should not bother to explain because they are witnesses of his works.
By Halifax Ansah-Addo