Battles on Comoros rebel island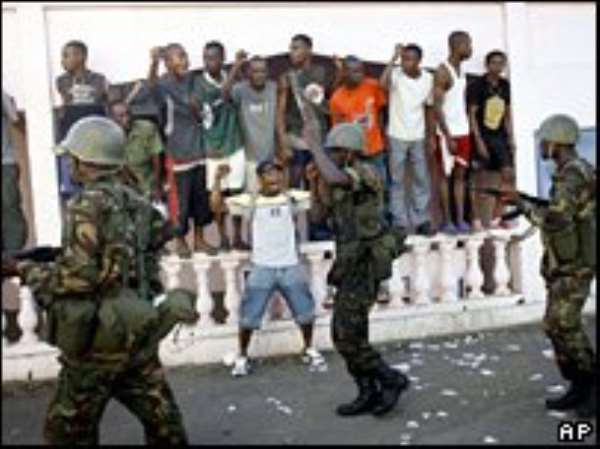 Troops from the Comoros archipelago in the Indian Ocean have recaptured most of the island of Anjouan after a year-long rebellion, officials have said. They said troops backed by an African Union force had taken Anjouan's main city and airport with light resistance. But fighting continues in some areas and the whereabouts of rebel leader Col Mohammed Bacar is unclear. His re-election as president of the semi-autonomous island of Anjouan last year had been declared illegal.
Defence Minister Bacar Dossar said coalition forces had not yet secured total control of the island and were "trying to flush out a pocket near [Col Bacar's] residence in Barakani".

He also said there were other small pockets of resistance on the island, however, he told the BBC that so far neither the African Union troops nor the Comoros army had suffered any casualties.
Army spokesman Major Ahmed Sidi had earlier said the government had taken control of the whole island.
Officials said that an "initial wave" of about 450 Comoran and AU troops had landed at dawn in a seaborne assault, taking the airport at Ouani and later capturing the main city, Mutsamudu.
Mortar and machine-gun fire was heard as the troops landed on Tuesday. The presidential palace in Mutsamudu was reported to be abandoned and soldiers are searching for Col Bacar and his supporters.
The Comoran troops are being supported by nearly 1,500-strong African Union soldiers, including Tanzanian and Sudanese soldiers.
Comoran President Ahmed Mohamed Sambi has said he had hoped that Col Bacar and his supporters would "surrender themselves in order to avoid confrontation".
"I have ordered the Comoran army and the forces of our country's friends to bring Anjouan back under the rule of law and free her citizens," Mr Sambi said on Monday night as the assault fleet sailed to Anjouan
Residents of the island were pictured greeting the government forces with jubilation as they patrolled through the streets, with some of the crowds chanting "Bacar is a dog".
Five boats carrying the Comoran and AU troops had left the island of Moheli overnight on Sunday, while a helicopter dropped leaflets over Anjouan warning citizens that the assault to retake the island would begin in hours.
The Comoros archipelago has had a fractious history since independence from France in 1975, experiencing more than 20 coups or attempted coups.
The three main islands of the archipelago lie 300km (186 miles) off Africa's east coast north of Madagascar.
Mr Bacar was elected president of semi-autonomous Anjouan in 2002. His re-election in 2007 was declared illegal by the federal authorities on Grand Comore who declared Anjouan to be in rebellion.
The AU condemned Mr Bacar's move and agreed to provide troops to topple him.