Liberia Apologises To Ghana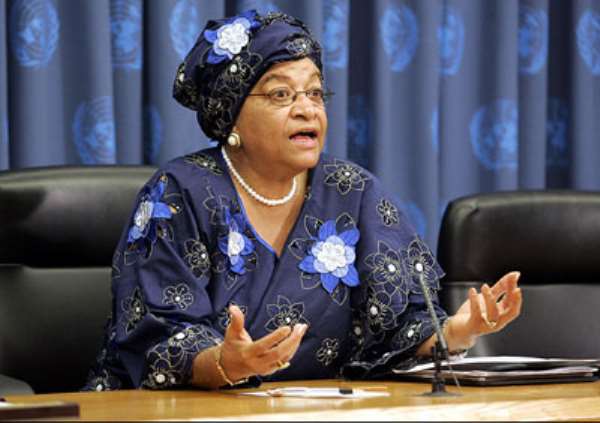 H.E. Mrs Ellen Johnson-Sirleaf, President Of Liberia The Liberian President, Mrs Ellen Johnson-Sirleaf yesterday dissociated the country from the 'unruly' conduct of some Liberian refugees in Ghana. This was contained in a statement issued in Accra by the Ministry of Foreign Affairs, Regional Integration and NEPAD, through the Ghana Embassy in Monrovia.
The Liberian leader conveyed to President John Agyekum Kufuor the country's 'sincerest apologies for the unruly behaviour exhibited by some Liberian refugees at the Budumburam Camp and disassociated itself from the gross misconduct of the group of refugees.'
President Johnson-Sirleaf recalled that Ghana had always stood firmly by Liberia through its turbulent times and that Liberia appreciated Ghana's various roles in supporting Liberia out of her challenging economic and political situation.
She stressed that Liberia would not allow any group of people to ruin the mutually rewarding relationship between Ghana and Liberia, which dated to the pre-colonial period.
The message further stated that in demonstration of its commitment to expeditiously resolve the matter, the Liberia Government was putting together a high-powered delegation to be joined by the Liberian Ambassador to Ghana, to meet all stakeholders and address the situation. The delegation would arrive in Ghana on March 26, 2008.