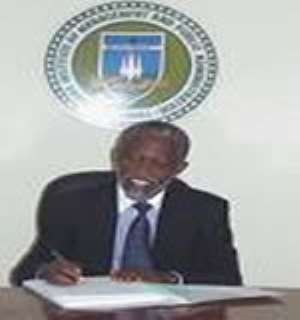 Dr. Stephen Adei, Rector of the Ghana Institute of Management and Public Administration (GIMPA) on Tuesday denied claims by Mr James Agalga, Counsel for plaintiff that he had named a building complex at GIMPA after his hometown "Wiamoase" without approval from the Governing Council.

Dr. Adei was continuing with his evidence during cross-examination by Mr James Agalga, Counsel for Mr Egbert Faibille, the complainant.

He also refuted allegations by Counsel for plaintiff that he wrote several letters to challenge the GIMPA Governing Council when they stopped him from using the professorship title.

He said his appointment as the rector of GIMPA was approved by the Council and denied charges by Mr Agalga that he (Dr Adei) had accused the Chairman of the GIMPA Governing Council of being the one who had asked him not to use the professorship title because he was not a proper professor.

He said all the witnesses who had testified in the case so far had addressed him as Prof. Adei and had not questioned his qualification as the rector of GIMPA.

Meanwhile Mr. Egbert Faibille, the Plaintiff in the case has filed an interlocutory injunction at an Accra High Court to restrain the GIMPA Governing Council and the Institute from conferring a professorship title on the first defendant until the determination of the substantive case.

In an affidavit in support of the motion for the interlocutory injunction, Mr James Agalga, Counsel for Mr Faibille prayed the court to restrain the two respondents whether by themselves, their agents or servants from taking any step to confirm or appoint Dr Adei to the position of professor under any guise at GIMPA on the grounds contained in the accompanying affidavit.

He said the first defendant, whether by design of fate or otherwise had applied per a letter dated September 4, 2007 to the second and third defendants through the Deputy Rector of GIMPA for the confirmation of Dr Adei as a full professor of GIMPA, of which the application letter had been admitted in evidence in court.

The facts were that Mr Egbert Faibille, Managing Editor of the Ghanaian Observer Newspaper had filed a suit at the High Court in his capacity as a citizen of Ghana against three defendants, including Dr Stephen Adei, Rector of GIMPA as the first defendant, and the GIMPA Governing Council as the second defendant and the GIMPA Institution as the third defendant.

The reliefs sought by the plaintiff include an order by the court to restrain Dr Adei from holding himself as a professor and rector of GIMPA, that the Governing Council of GIMPA should advertise the vacant position in the media and a suitable replacement found.

The rest are damages should also be awarded against the first defendant for deceiving the entire GIMPA institution, Governing Council and the fraud that he had perpetuated on the people of Ghana.

The case was adjourned to April 16, this year.