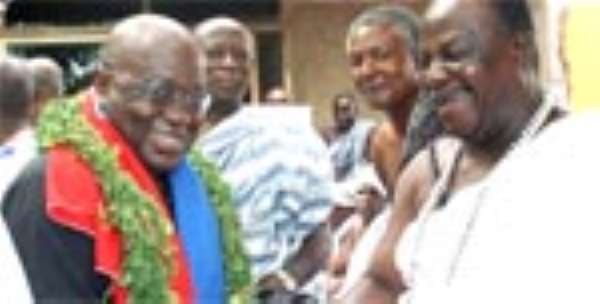 THE CHIEFS and people of Shai and Osudoku Traditional Areas in the Greater Accra and Eastern Region have welcomed Nana Addo Dankwa Akufo-Addo to the two Ga-Dangme traditional areas, assuring him of their support in his bid to become the president of Ghana.
Nana Akufo-Addo, New Patriotic Party (NPP) flag-bearer, together with his wife, Mrs. Becky Akufo-Addo stormed the area to introduce himself to the chiefs and their subjects.
Receiving the NPP presidential candidate, the two traditional councils (Shai and Osudoku) described him as part of them, since his wife hails from the area.
At the Shai Traditional Council, for instance, the acting President of the Council, Nene Awote Bana Atrokpa I said "we at Shai have seen you as one of us because your wife is a Ga-Dangbe and if something good is coming home, we must embrace it".
He jokingly demanded dowry from the NPP flag-bearer who replied by saying, "me gye me akonta votes," meaning "I am collecting my votes from my brothers-in-law".
At Akuse, the Paramount Chief of the Osudoku Traditional Area, Nene Klagborjor Animle V said he intentionally invited Nana Akufo-Addo and his wife to introduce them to the Osudoku people, so they would know that voting for Nana was like voting for a native of Osudoku.
The Paramount Chief, who spoke in Dangme, told his subjects that Nana Akufo-Addo was not an outsider, saying he was part of the community because the wife was "a native, coming from Akuse here".
The presidential candidate, addressing the chiefs, reminded Ghanaians that Ghana had known peace over the years and this election could therefore not spark off violence, as had been preached by some political parties.
He noted that since 1992, the NPP had never won any election in the Osudoku area, and advised the people to this time round change their pattern of voting and vote massively for the NPP.
Earlier when he was introducing the flag-bearer to the chiefs, Dr. Kofi Konadu Apraku said Nana was somebody who had transformed himself dramatically to become a giant in the Ghanaian political arena.
He told the people that politics was about development and since the people of Osudoku and Shai were going to be part of Nana Akufo-Addo's administration, they should make sure they justified their inclusion by voting massively for their brother-in-law.
Other members of Nana's entourage were Prof Mike Oquaye, Mr. Agyarko Kyeremanteng, Jake Otanka Obetsebi Lamptey, Papa Owusu Ankomah and Hackman Owusu-Agyeman.
Others included Gloria Akuffo, Minister of Aviation; the National Party Chairman, Mr. Peter Mac Manu; and I.C. Quaye, Greater Accra Regional Minister.
Nana Akufo-Addo also introduced the parliamentary candidate for the area, Hon Daniel Dugan to the people, urging them to support him to win the seat.
From Simmons Yussif Kewura, Shai Osudoku