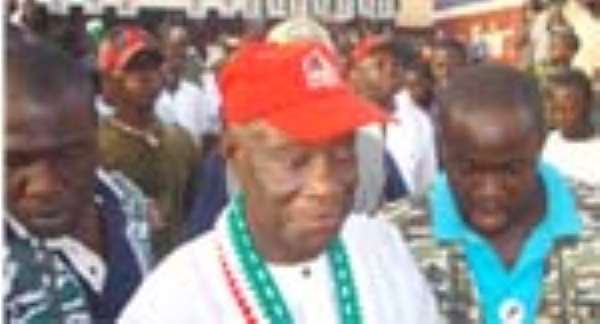 THE HEALTH status of Professor John Evans Atta Mills, Flagbearer of the National Democratic Congress (NDC) became the subject of discussion at a public forum held in Accra on Wednesday.
It all started when the Editor of the Ghanaian Times newspaper and former President of Ghana Journalists Association (GJA), Ajoa Yeboah-Afari, lambasted the media for making the health status of Prof. Mills 'a chewing stick'.
According to her, newspaper publications on his health status had made Atta Mills a laughing stock in recent times, thus undermining his credibility.
"But are we people being fair to him? Even if it is true that it was his own party members who first raised the issue of his health status and made it a public chewing stick, should the line not be drawn somewhere? Doesn't he have the human right to be sick?
Doesn't everybody suffer from one ailment or the other from time to time? she retorted.
Interestingly, Ms. Yeboah-Afari noted that none of the stories and speculations about his health had mentioned mental incapacitation and asked, "So why the virtual hysteria?"
Explaining, she said, even in the country's constitution, the only health requirement for the highest office in the land, is that a candidate should not be of unsound mind or detained as a criminal lunatic under any law in force in Ghana.
She said there was no reference to hypertension, gout, stomach-ache, arthritis, migraine or physical disability, adding that the framers of the Constitution made allowances for human frailties and illnesses because it was natural for human beings to fall sick from time to time.
'Doesn't this suggest that it is only a condition that could impair one's judgment that would bar one from contesting the presidency?" she asked.
However, some participants at the forum did not take kindly to Ms. Yeboah-Afari's statement. They argued that public officers have no privacy and that it was not out of place to report about the health status of public officials.
They argued that it was improper for journalists to sweep under the carpet, unacceptable utterances and questionable lives of public officials since according to them, publicizing their behaviour was the only sure way in which the public could judge whether they were worthy of their votes.
'We cannot hide or help office holders to cover up their misdeeds. If public officers live their lives in public, they have a problem; however, if they live it privately, they have no problem.
"If those seeking public office as well as the public depend on the media to present the candidates, or help people know them and the choices they represent, then the taxpayer should also be able to depend on the media to reflect both the good and the bad sides of these officers," they said.
Dr. Bonnah Koomson Snr., a Lecturer at the School of Communication Studies, said Ghana's political development had reached a stage where double standards were creeping into public life, noting that the media were obliged to use the opportunity to gauge public mood as to whether the observance of different rules of conduct with respect to one's professional life and one's private life, was acceptable.
He called on individual journalists to develop a high professional stance that was above reproach.
"One sure way to attain such pedigree is to strive to overcome our human tendency to let personal feelings influence one's reporting and writing," he said. Mr. Koomson suggested that the establishment of in-house ethics committees, purposely to deal with ethical violations in a manner of 'naming and shaming' colleagues, might after all be effective pro-active alternatives to institutional sanctions.
Organised by the Media Commission and Friedrich Erbert Stiftung, the forum was themed; 'Media and Elections Forum'.
The topic discussed was: 'How much of a public officer's private life is public'.
By Sheilla Sackey