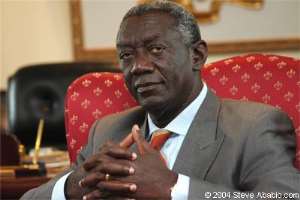 President John Agyekum Kufuor President John Agyekum Kufuor yesterday urged Consultants working on Ghana's Compact of the Millennium Challenge Account (MCA) to make sure that costs were managed within agreed budgets. He demanded that every aspect of the programme should not only be tackled with a sense of professionalism but must be completed on schedule.
'This Programme must be exemplary. I do not expect anything less than excellence from the Consultants', he said when he joined the Board and Management of the Millennium Development Authority (MiDA) and Consultants at their retreat at the Fiesta Royale Hotel in Accra.
Also attending was the US Deputy Vice President of the Millennium Challenge Corporation (MCC) responsible for Compact Implementation in Africa, Mr Jonathan Bloom. Ghana's 547 million-dollar Compact is meant to modernise and transform the face of the country's agriculture and President Kufuor was with the Board to acquaint himself with plans and timelines in place for efficient implementation of the programme.
He re-affirmed the Government's total commitment to the successful delivery of the benefits, which the programme promises for the economy and the people especially, smallholder farmers in selected districts. He noted that, exactly a year after the Compact was signed, the
building blocks were now in place to support the start of the implementation phase.
Significant activities relating to commercial development and disbursement of funds to farmers and related small and medium scale agro-enterprises, construction of trunk and feeder roads in the Afram Basin and other Intervention Zones in the North and in the South had been programmed for the year.
Added to these would be the improvement of Ferry Services in the crossing from Adawso to Ekye Amanfrom, rehabilitation of schools and other social infrastructure in some farming communities as well as the automation of Rural Banks to bring rural areas into the financial economy.
President Kufuor said, he particularly looked forward to tremendous improvement in Accra's transportation infrastructure with the commencement of construction work on the George W. Bush Motorway later in the year.
Mr Edward Boateng, Chairman of the MiDA Board, announced that all major procurements had been completed. The retreat, he said, was to provide a platform to review the progress achieved over the past six months and what they would achieve in the coming six months and the challenges.