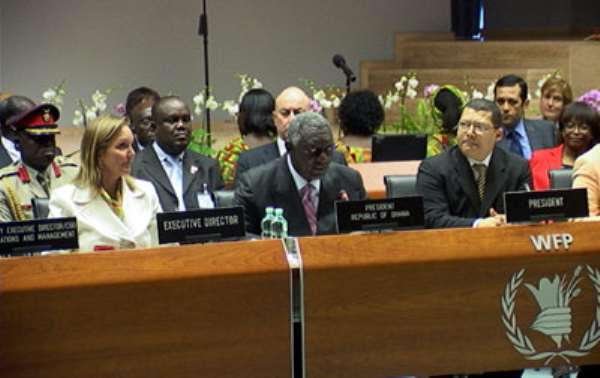 President Kufuor addressing the Executive Board of WFP in Rome President John Agyekum Kufuor of Ghana yesterday addressed the Executive Council of the World Food Programme (WFP)in Rome, Italy. He was invited to address the session on the School Feeding Programme Ghana has adopted as part of its policy in the pursuit of achieving the Millennium Development Goals (MDGs).
President Kufuor was accompanied by the Minister for Agriculture, Hon Ernest Akobour Debrah, Hon Maxwell Kofi Gyumah, Deputy Minister for Local Government, Rural Development and Environment and the Director of the School Feeding Programme, Dr. Kwame Amoako Tuffuor.
In his address, President Kufuor said that among the three basic needs of man - food, clothing and shelter, food is the most essential and most important for every school going child. 'A well fed child will have the mind to study; and educated child will grow with knowledge to cloth and provide shelter for himself.'
He noted that, the school feeding programme was necessary for all school going children which the government of Ghana with the support of WFP must sustain. He called for a strong partnership between government and WFP for the success of the programme.
On her part, the Executive Director of the WFP, Josette Sheeran called for cooperation and support from Ghana Government so that the current scope of distribution of support for the programme could be expanded to reach the needed targets.
President Kufuor presented a kente stole to the Executive Director of the WFP, Madam Josette Sheeran
Six school children from various parts of Ghana who were part of the school feeding programme team to Rome, entertained the gathering with their experiences of the benefits of the school feeding programme in their localities in songs and dances and poetry recitals.
The school children distributed 'The Red Cup'; the symbol that depicts the challenges facing the WFP and the struggle for its survival.