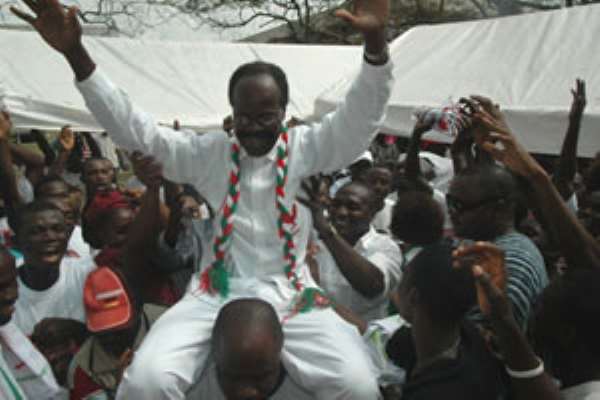 Dr Paa Kwesi Nduom, presidential candidate of the Convention Peoples' Party (CPP) has stated that he is prepared to enter into alliance with any Nkrumahist political party, particularly the People's National Convention (PNC).
The CPP flag bearer, who was reacting to the proposed alliance initiated by the regional executives of CPP and PNC in the Upper West Region, noted that "as far as I am concerned, I would accept any alliance in any form, either common parliamentary candidates or presidential candidate".

Dr. Nduom, who was speaking to DAILY GUIDE in an interview during his recent visit to Kpong, observed that the move by members of the two parties in the Upper West Region was a welcome one, saying he personally was not against the idea.
According to him, he once made the move for PNC and CPP to come together and present one presidential candidate, but the proposal was not accepted.

"So if my party and PNC in the Upper West Region are ready for the alliance, I believe the national executives will work on it and I will not reject that idea." .
But a leading member of CPP, Iddrisu Egala, who failed in his bid to become the chairman of the party at the recent national congress held in Kumasi, said "everything is too late for any alliance".
According to Mr. Egala, a Chartered Accountant in Accra, if there is any alliance to talk about at all, it should have come earlier before the two parties went to congress.
He accused the PNC leadership of drawing back the move for an alliance "because the flag bearer of the party want to lead his party as presidential candidate, hence his lackadaisical attitude to the Nkrumahist unity talks".
Mr. Igala observed that the proposed alliance could work well as both parties are not so strong in the Upper West Region to present different parliamentary candidates.
He contended that CPP and PNC are strong only in two constituencies out of 10 in the region, adding that he did not know of any strongholds of the parties.
He named the two constituencies as Sissala West and East, the only constituencies currently in the hands of
PNC.
He therefore suggested that it would be better for the parties to file their candidates, instead of thinking of common parliamentary candidates.
In a related development, Mr. Igala, in a press statement, appealed to his supporters and all sympathizers of the CPP to rally behind Dr. Paa Kwesi Nduom.
The statement urged all members of the party to bury the past and effectively campaign for the presidential candidate for massive victory for the CPP in the December elections.
He however appealed to Dr. Nduom to form a proper campaign team and stop using his wife and friends as the campaign team.
Source: Daily Guide