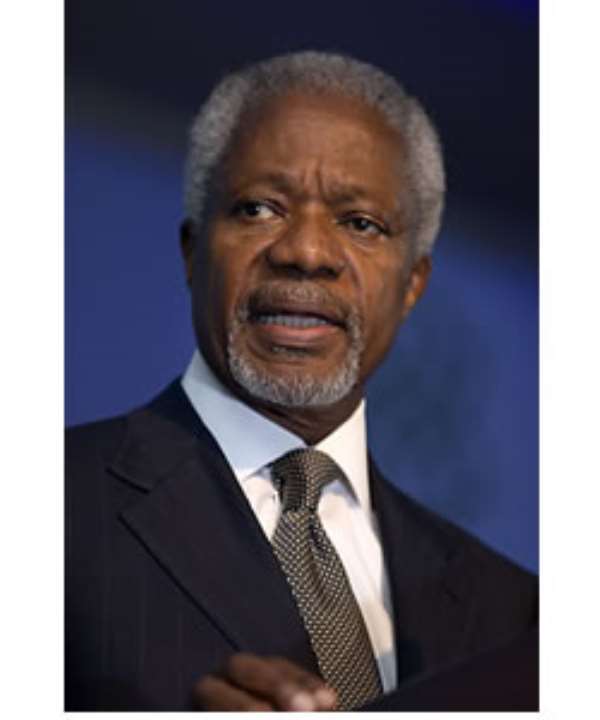 Former United Nations (UN) Secretary-General, Mr Kofi Annan, who was dispatched by African Union (AU) Chairman John Kufuor to broker peace in the Kenya crisis has succeeded, somehow.
For the first time yesterday since the disputed elections, President Mwai Kibaki and his opponent, Raila Odinga met eyeball to eyeball and clasped hands in an enthusiastic handshake.
Hundreds of onlookers clapped and cheered as the two leaders shook hands and smiled warmly at each other after the discussions and pledged to seek an end to weeks of unrest that had killed nearly 700 people.
"I think we began to take some fair steps towards a peaceful solution," Annan told reporters gathered outside Kibaki's central Nairobi office, where the talks took place.
The two leaders had not talked since the December 27 polls, despite intense pressure from Western powers and millions of anxious Kenyans horrified by their country's slide into chaos.
Odinga, who says Kibaki's team stole the election, said talks would continue until a solution was found.
"My team and I will spare no effort to resolve this crisis," he said.
Kibaki vowed to lead the East African nation to unity.
"I appeal to all Kenyans to remain calm and to shun violence as we endeavour to find solutions," he said.
"I am confident that together, our experience, unity and determination will make it possible for us to overcome the challenges."
The meeting was a major breakthrough in nearly four weeks of unrest in Kenya. However, none of the three participants elaborated on the content of their talks.
Annan had previously persuaded the opposition Orange Democratic Movement (ODM) to call off protests planned for Thursday after earlier such rallies turned violent.
Earlier reports by Western media that President Kufuor had failed in mediation efforts was strongly rebuffed by the AU Chairman John Kufuor, who announced that both sides had agreed to work with an African panel headed by former UN Secretary General Kofi Annan.
Controversy over Kibaki's re-election in a December 27 vote triggered political and ethnic bloodletting that has displaced 250,000 people, dented the stable reputation of East Africa's biggest economy and disrupted supplies to nearby countries.

Odinga says Kibaki rigged the election.
President Kufuor, Washington's top Africa diplomat Jendayi Frazer as well as EU and British envoys met Odinga earlier to pile pressure on him and Kibaki to reach a deal.
Ethnic killings
The ODM had demanded an outside mediator to solve a crisis that has split Kenya down tribal and political lines, after Kibaki narrowly won the closest election in the country's history following a vote rife with rigging.

Seven hundred persons have died and 250,000 have been forced to flee their homes in a combination of politically incited ethnic killings and police action to quell protests that frequently degenerated into rioting and looting.
In Odinga's western stronghold of Kisumu yesterday, some youths burned tires, saying they were angry their leader had been caught in police tear gas on Wednesday at a memorial service for some of the dead.
Local media said four people were killed in violence in the Rift Valley towns of Malo and Nakuru.