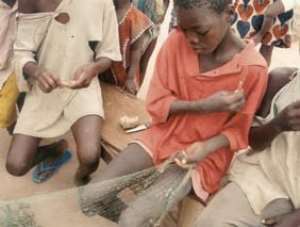 More than 1.2m children are engaged in child labour out of the 2.4m economically active children in Ghana. The National Programmes Coordinator of the International Labour Organization, Matthew Dally, who made this known this at a child labour workshop in Kumasi, expressed grave concern about the continuous abuse of child rights in the country.
He said any work performed by a person below the age of 18, which deprives him of the basic human rights, and is exploitative and harmful to the development of the child is not permissible.
He noted however, that the causes of child labour are primarily rooted in poverty, created by social and economic inequality as well as inadequate educational facilities.
Mr. Dally described all forms of slavery or practices similar to slavery, like the offering of a child for prostitution, production of pornography among others as the worst forms of child labour.
He said children in such conditions suffer trauma of isolation from their families and are thus prone to depression and are denied balanced development.