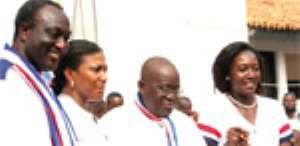 ALAN JOHN Kwadwo Kyerematen, former Trade & Industry Minister and aspirant in the New Patriotic Party (NPP) flagbearership race, yesterday saved the ruling party a lot of time, energy and extra cost when he voluntarily averted an imminent run-off.
The former minister, who placed second in a marathon election that saw no candidate emerging as the winner, was to re-run the same race with Nana Addo Dankwa Akufo-Addo, former Foreign Minister, but Mr. Kyerematen said he wanted to save the party from further costs and agony.
This was shortly after Nana Addo had failed to satisfy Article 12 (IV) of the party's constitution as he only managed to poll 47.965 percent of votes cast, instead of 50 percent plus one.
The constitution requested that in such a stalemate, the first two aspirants in the first ballot must run again. And in this case, Kyerematen, who polled 32.298 percent, was to lock horns with Nana in a second round duel.
Mr. Kwadwo Osafo Kantanka, Deputy Commissioner of the Electoral Commission (EC) in-charge of Operations, had declared that even though Nana Addo had won the race, a candidate had not been elected to satisfy Article 12 (IV) of the party's own constitution.
This prompted the NPP national chairman, Mr. Peter Mac-Manu, to also declare a return to second congress.
But Alan's response to the stalemate attracted a heavy round of applause from the party faithful, many of whom had said it was a sign of good sportsmanship.
Before yesterday's development, Alan had been touted as one aspirant who would split the party, but he put his critics to shame, when he rather saved it with his historic decision.
Not only did he concede defeat to Nana Akufo Addo, he also went ahead to congratulate the winner and assure him of his utmost support.
"I wish to assure my friend of my full support and commitment in the run-up to the 2008 general elections. I further request my supporters to support Nana Akufo-Addo because a victory for him is a victory for Ghana," he said.
Responding, Nana Akufo-Addo said Mr. Kyerematen gave him a run for his money and thanked him for his level-headedness.
"This is the day the Lord has made, we must all be glad and rejoice in it," he noted.
The emotional development promptly generated an array of contributions from the 15 other aspirants in the race.
While Osafo-Maafo pledged his unflinching support to the party's newly elected candidate, Kwabena Agyei Agyepong thanked the delegates for speaking their minds.
Expressing joy at the fresh demonstration of unity in the party, Mr. Hackman Owusu Agyemang, said it was a slap in the face of the party's detractors and thanked Kyerematen for being so gracious.
"We have done ourselves proud today. There is only the joy of victory and no agony of defeat," stressed Baffour Adjei-Barwuah.
According to Jake Otanka Obetsebi-Lamptey, delegates had demonstrated the true spirit of unity, saying he was happy and proud to be a part of the history.
For Dan Botwe, it was a manifestation that the blood of those who died for the tradition was not shed in vain. He said the party had been fired for victory and called for a common sense of purpose.

Boakye Agyarko said there was the need to close the party's ranks after the internal struggle, while Dr. Addo Kufuor noted that the 17 aspirants had helped oil the party's machinery.
The NPP seems to be putting in place a convention of succession for its presidential aspirants since the inception of the Fourth Republic.
John Agyekum Kufuor, who contested Professor Albert Adu-Boahen in 1992 and lost, eventually became the President of the Republic in 2000.
Before then, Akufo-Addo had also contested him in 1998, and lost, before finally winning the race yesterday.
Concluding his acceptance speech, Nana Addo stressed: "Alan, you will follow me". By Bennett Akuaku