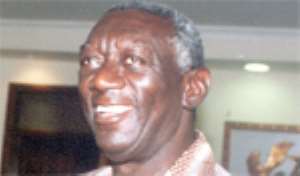 THE NOBLE Order of Knights and Ladies of Marshall has commended President John Agyekum Kufuor for acting promptly to the outcry by the Ghana Catholic Bishops' Conference (CBC) on the deletion of Religious and Moral Education (RME) from the schools' syllabus.
A statement issued in Accra and signed by the Supreme Knight, Sir. Knight Bro. Eddie Aloysius Prah said "with this timely intervention by the President, he has proved himself to be not only a listening Chief Executive but also as a First Citizen who has the future of his nation very much at heart".
The statement urged the Ghana Education Service (GES) to heed the President's directive and expeditiously take steps to rectify matters since the issue at stake was crucial to the right formation of those in whose hands the future of Ghana would be entrusted.
The Marshallans stated categorically that throwing their weights behind their Bishops as their Spiritual Leaders was not just a mere solidarity gesture.
"We do this as concerned citizens of our dear motherland Ghana who passionately desire for a peaceful, orderly and very disciplined future of a country in which everyone sees one's self as one's brother's keeper.
"Again, we are supporting our Bishops' call because we want to bequeath to our children a secure society in which justice, harmony, decency and love of family values prevail," it said.
The statement indicated that the surest way of attaining God's plan for the country was to imbue in children at their formative years religious and moral education, both from home and school.
It acknowledged the dominant role schools played in the formative years of a child, adding "to deprive them of religious and moral education and giving them a packaged programme as an appendage to other subjects considered to be more important amounted to teaching a child that religion and morality could be relegated to the background.
"Is this already not a way of damning the child to a life without God?
They observed that though many nations of the world do not teach religion and morals in their schools and yet are among the world's most developed countries, the social cost of that dereliction on such countries has been devastating.
"What can those who are holding such countries to us as models say about the frequent gunning down of innocent school children, at times by their own teenage mates; the blatant permissiveness leading to moral decadence which has made such unnatural, vulgar and abominable practices as lesbianism and homosexuality acceptable ways of life even among supposed men of God;
"What do these people say about occultism and high drug addiction among students in such counties, or the high rate of divorce and even suicides among adults of such societies?" the statement queried.
The Marshallans described the examples from other countries being cited by the GES as untenable. They said they rather wanted Ghanaians' way of life, owing to the teaching of RME, to be an example for those countries to emulate.
The statement as well commended the Christian Council of Ghana, other Christian bodies and individuals as well as some Islamic bodies for their support and urged the CBC not to relent in its "instructions for Religion and Moral Education to be taught in all Catholic schools."By Wisdom Peter Awuku