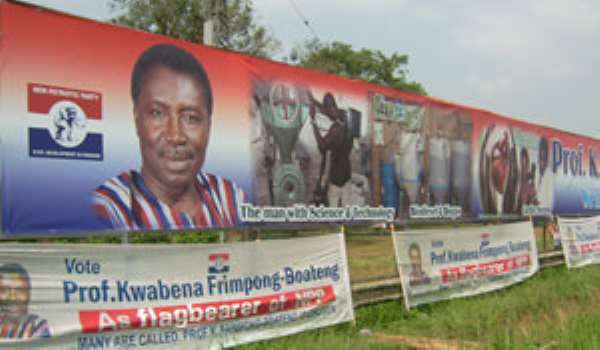 In spite of the controversy surrounding political banners springing up all over the metropolis, NPP presidential aspirant, Prof. Kwabena Frimpong-Boateng's group of foot soldiers are the latest to have mounted the longest billboard of 114 feet and a giant balloon both adorned with positive accolades about him at the entrance of the University of Ghana, Legon.
When the Daily Graphic visited the scene which is gradually turning into a veritable tourist spot on Monday evening the group had finished with the billboard and were making efforts to mount it.
It portrayed Frimpong-Boateng smiling with the inscription "he looks like president, he thinks like president, he acts like president, he is your president" among other virtues.
Visiting the Legon campus where the two day special delegates' congress of the NPP will take place, the atmosphere was electrifying.
Indeed, right from the entrance of the campus to the forecourt of the Great Hall, venue of the congress, were giant billboards, balloons and posters of NPP presidential aspirants.
The main entrance to the university had virtually been turned into a mini tourist spot with the adornment of various aspirants on giant billboards and balloons, all trumpeting the positive sides of the aspirants.
People were seen gathered in groups moving from one billboard to another in a discussion mood when the Daily Graphic visited the place on Monday and Tuesday.
Each day banners upon banners were springing up all over the place. There were giant portraits of many aspirants including Mr Alan Kyerematen, Prof. Mike Oquaye, Vice-President Alhaji Aliu Mahama, Nana Akufo-Addo, and Mr Hackman Owusu-Agyeman.
Other portraits were those of Dr Kofi Konadu Apraku, and Messrs Boakye K. Agyarko and Dan Kweku Botwe.
Adorned all over the capital, Accra, were also posters of political party aspirants contesting for various positions especially that of president.
Yaw Osafo-Maafo is depicted smiling broadly to victory with the inscription "proven performer".
Hackman depicts an elder statesman in an assured mood with the inscription "action man, creativity, integrity and commitment and Nana Akufo-Addo's depicting him in a pensive mood, with the inscription which states "I believe in Ghana". Aliu Mahama's imposing image with No. 15 boldly written had the inscription "vote for empowerment and prosperity.
"Vote for Boakye K. Agyarko, for new leadership, new vision" is what is seen on Mr Boakye K. Agyarko's posters and Dan Botwe having "selfless leader, it is a Dan Deal."
Alan Kweku Kyeremanteng, whose portraits dominated, had "Alan Cash for Ghana, jobs for the people, cash for the people. Dr Kofi Konadu Apraku had a simple message, "Ghana's hope."
Aliu's other posters cited in town depicted him in a rich Kente cloth and presented him as the candidate of choice who represents the interest of the whole country and not only where he hails from. "One God, One Nation, One People" are the words adorning the captivating posters which had joined the others posted all over the capital.
Adjei-Barwuah's simple poster portrayed a smiling mature personality with a concise message "vote Dr Bafour Adjei-Barwuah as NPP flagbearer" with a slogan "strengthening the party, securing the nation."
It also had the NPP flag and motto "Development in Freedom" embossed on the top right corner.
Dr Kwame Addo Kufuor's poster depicted a sweet-looking personality when you chance upon it. Vividly it states: Addo Kufuor for president. He comes across as a visionary, achiever, strategic, highly disciplined, diligent plan¬ner, solution-oriented, God-fearing, party loyalist, team player, highly focused, transformer, good listener, bold, mature, credible, dependable, affable, humble and security for Ghana, among others.
His motto is "Transformational and Result Oriented Leadership".
Few of the CPP posters also cited within the Accra metropolis had 'Vote CPP, Dr Paa Kwesi Nduom for President 2008", Prof. Agyeman Badu Akosa had "Akosa 08, Akosa for President," Bright Akwetey had 'Save Ghana for a brighter Ghana and Vote Bright Akwetey as next President". "Vote for President George Aggudey", Vote Dr Kwame Osafo as CPP's Presidential flagbearer were others that were sighted.
In all of this, one hopes that they have gone through the due process to have their posters pasted and scattered across the capital.