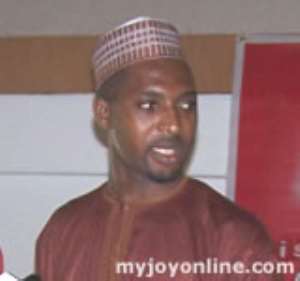 The National Democratic Congress Member of Parliament (MP) for Asawase, Alhaji Mohamed Muntaka Mubarak says now that Ghanaians have realised that the ruling NPP government has failed them they should return the NDC to power in the 2008 general elections to build a prosperous nation for the people.
He therefore urged supporters and members of the party to conduct their campaign in a peaceful and decent manner, devoid of rancour and insults.
The MP was addressing the second general meeting of the University of Education branch of the Tertiary Educational Institutions Network (TEIN) NDC at Winneba.
It was under the theme; "The role of the youth in fighting corruption".
He said NPP should be voted out because they have nurtured corruption to permeate every aspect Ghanaian society.
Alhaji Mubarak urged members and supporters of the party to be vigilant, and help to expose corruption in the society since one cardinal aim of the party was to fight the cancer.
Mahama Ayariga, Member of Parliament for Bawku Central said when the NPP was in opposition they criticized the NDC of mismanaging the country but when power was given to them they were doing worse things.
The MP said, if NPP was not voted out and replaced with the NDC the condition of Ghanaians would not see any improvement.
Mr. Ayariga advised party members to stay focused and stand firm against all forms of propaganda by the NPP and continue to campaign vigorously for more supporters for the party.
Mr. Carlos Chireh Ibrahim, branch President, TEIN appealed to the national executives of the party to update the knowledge of members with new campaign strategies and messages to enable them use them in their local campaigns.
He appealed to the party hierarchy to resource and motivate the party youth groups to carry out programmes and activities to attract floating voters.