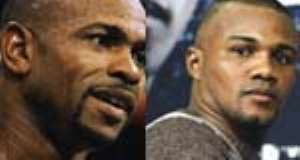 Two boxing greats Roy Jones Jnr. and Felix 'Tito' Trinidad will face each other at New York's famed Madison Square Garden come January 19, 2008.
This was announced by legendary boxing promoter Don King on Saturday in New York City, according to fightnews.com.
Trinidad (42-2, 35 KOs), from Puerto Rico, and Jones (51-4, 38 KOs) from Pensacola, Fla.,-both destined for the Hall of Fame- have built a staggering list of accomplishments and will enter the ring for this highly anticipated 12-round fight at or below the catch weight of 170 pounds.
Jones is an eight-time world champion, winning belts in the middleweight, super middleweight, light heavyweight and heavyweight divisions, becoming the first former middleweight champion to win a world heavyweight crown in over 100 years.
Trinidad is a five-time world champion with a stunning career knockout ratio of 80 percent that has won titles in the welterweight, junior middleweight and middleweight classes.
He also holds the distinction of having defeated three Olympic Games gold medalists: Pernell "Sweet Pea" Whitaker, "The Golden Boy" Oscar De La Hoya and David Reid.
"I always want to fight great fighters and I have always wanted to fight Roy Jones Jr., one of the greatest fighters of the era," Trinidad said.
"I have too much boxing left inside of me and I want to show that I am still one of the best fighters in the world. I feel good at this weight and it will be a great fight."
Jones minced no words in summing up the match: "We both have bombs in our tank and are phenomenal boxers on top of that," Jones said. "We are both powerful punchers and it will all depend on who gets there first.
I will guarantee this, count on it: This will be a super-fight that delivers the goods. We're going to give fight fans exactly what they want to see."
"Tito is a great champion and I know he leaves a great legacy behind him. If someone like that challenges you, how are you going to turn that down?"
Promoter Don King is especially proud to be promoting this fight. "I've been trying to put these two superstars in a match for a long time and to get this done just leaves me breathless," King exclaimed.
"This will be a fight for the ages and will be remembered among the greatest events I have ever staged. Tito and Roy, it doesn't get any better than that."
From 1993 to 2004, Jones was regarded by most as the best pound-for-pound fighter in the world. He was Ring magazine's "Fighter of the Year" in 1994 and was voted 1990's "Fighter of the Decade" by the prestigious Boxing Writers Association of America.

The list of top-name fighters Jones has defeated include Bernard "The Executioner" Hopkins ; James "Lights Out" Toney; Julio Cesar Gonzalez; Clinton Woods; John Ruiz; and Antonio Tarver.
Trinidad is the greatest and most revered fighter ever from the boxing-crazed island of Puerto Rico. He was named the BWAA Fighter of the Year in 2000 and in that same year participated in the BWAA and USA Today Fight of the Year when he knocked out then-undefeated "Ferocious" Fernando Vargas.
His list of vanquished star foes include Hector "Macho" Camacho; Oba Carr ; Pernell Whitaker; Oscar De La Hoya; Fernando Vargas; and Ricardo "El Matador" Mayorga.
From The Sports Desk