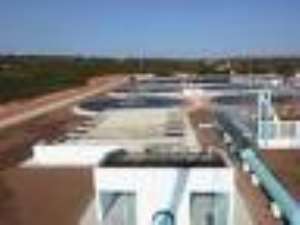 Weija Dam, which supplies potable water to over two million people in Accra is said to be under serious threat of run-over that could cause destruction of lives and property because of illegal activities by developers and stone winners.
Encroachment on the Dam area has taken a different dimension in recent times as developers and stone winners now resort to the use of explosives (dynamites) to detonate the rocks that served as protection to the dam.
Water experts have therefore warned of possible danger and predicted that the extent of destruction could spread and submerge areas such as Odorkor and Dansoman which are about 10 to 15 kilometers away from the dam, should the run-over occur.
Briefing the press on the situation on Monday during a tour, Mr Michael Amuakwa, Plant Manager at the Weija Water Treatment Plant explained that the explosives, besides breaking the mountains, also weakened the foundational structure of the dam.
He said people have defied several warnings not to build or carry out any form of human activity within the catchment zone despite the fact that they were aware that the land was the property of the Ghana Water Company which belonged to the government.
Mr Amuakwa said because the stone quarrying had now reached close to the banks of the dam, a lot of foreign materials have entered it, which made it difficult to determine the level and volume of water in the dam.
He said the situation called for an immediate radical intervention by all interested stakeholders to save the dam.
"It is not just an eyesore, but a catastrophe. The unfortunate thing is that the people living here do not even know the serious health threat they are in case of a chlorine gas leakage," Mr Amuakwa said.
Mr Ronald Abrahams, Programme Coordinator of the Water Resources Commission said, "there is no substitute anywhere to the Weija Water Treatment Plant therefore everything must be done to protect it."
He said so far, government had invested about three billion Ghana Cedi in the plant operations, which supplied water to strategic areas such as the Castle (seat of Government), Korle Bu Teaching Hospital and Ridge Hospital.