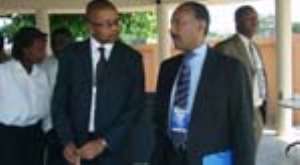 THE AFRICAN Development Bank (AfDB) says increasing the level of credit to the private sector from 14 per cent of Gross Domestic Product (GDP) to 25 per cent would provide more than $70 billion of additional investment resources to African households and firms.
However, the potential of the financial sector to Africa's economic growth remains largely untapped and is mainly due to inappropriate sequencing of reforms and continued state involvement and interference in the management of financial institutions.
According to the Director in charge of Governance as well as Economic and Financial Management Department at ADB, Negatu Gabriel, the emerging developments on the African continent occasioned by the fast globalizing financial sector invariably poses a great challenge, not only to the growth and efficiency of the African financial system but also to the system's ability to provide the stimulus for sustainable growth at national and regional levels.

To this end, these challenges which are multi-facet and demanding should urge African countries and development partners to build stronger and integrated domestic financial systems by ensuring macro-economic stability as well as restore investor or borrower confidence in domestic banking systems amongst others.
Opening the ongoing 2007 annual forum of the Association of Development Finance Institutions (AADFI) for Chief Executive Officers in African Development Banking and Financial Institutions being hosted by the National Investment Bank (NIB) in Accra yesterday, Mr. Gabriel Negatu said Development Financing Institutions (DFIs) are expected to become prime vehicles to catalyze financial intermediation and as well extend long-term credit by removing bottlenecks stemming from credit shortages.
Despite financial sector reforms underway in many African countries, risk-averse private bans are still unable to meet the demand for long term loans.
Additionally, many DFIs have failed to achieve their development objectives.
According to Mr. Negatu, if DFIs are to achieve multiple and at times seemingly contradicting objectives, they must adopt good prudential guidelines and practices and as well restructure both financially and operationally.
Instructively, financial restructuring will restore solvency by improving balance sheets of the banks, attracting additional capital and boosting the value of assets.
He said AfDB is so concerned about furthering the financial sector development as well as strengthening the institutional capacity of financial intermediaries.
Thus the bank will encourage and support the relevant bodies to work together in developing the appropriate accounting and supervisory standards for DFIs.
Mr. Negatu noted that the future support to the sector would differentiate between three categories of DFIs that includes those that are insolvent, those that are but need to build their capacity to remain viable and perform efficiently as well as those that already have good operating standards and are performing well in favorable macro-economic environments.
A communiqué is expected to be issued at the end of the three-day meeting which will help provide support to the growth, access and regional dimensions of financial sector development in Africa including expanding access to financial services by all sectors of the economy.
By Charles Nixon Yeboah