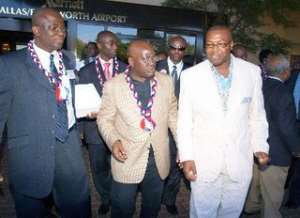 Nana Akufo-Addo
Akufo-Addo, one of the aspiring candidates vying for the NPP presidential race, believes it is time the world saw a successful African State and Ghana must take the lead in that direction.He said the integration of the sub-region under the Economic Community of West African States should become a critical part of Ghana's national development.
"We must get involved in the construction of a new West African State in particular and an African State in general", he pointed out.Nana Akufo-Addo was addressing the NPP chapter of the Tertiary Education Students Confederacy of the University for Development Studies, Wa campus, at Wa on Tuesday, as part of his one-day campaign tour of the region.
Earlier on Saturday in Lagos, Nana Akufo-Addo, who met a group of influential Nigerians, including Vice President Jonathan Goodluck, at a social event, spoke of the need for Ghana and Nigeria to take charge in leading the sub-region of some 240 million people onto a plateau of growth, prosperity and security.He told his Lagosian audience that Ghana and Nigeria can do for West Africa what France and Germany did for continental Europe after the Second World War.
The two opposing sides in that war turned around to work together to build what has now become the European Union, through deepening economic integration and allowing the free movement of people, goods and services among member states.Akufo-Addo, a strong believer in an integrated Africa feels Nigeria and Ghana have a great opportunity to make it happen by driving the process within ECOWAS and beyond.He was also delightfully moved and encouraged by the sense of pan-Africanist consciousness that he witnessed in Nigeria.Back in Ghana, he continued the second leg of his national campaign which took him to the three northern regions. At the UDS, he urged students of the universities to get involved in national development and participate actively in the decision-making process to ensure that the right things were done to enhance the overall development of the people.He said for the nation to move forward, it must utilise her raw materials instead of only exporting it and called for the transformation of the economy, especially the industrial sector to provide jobs for the youth. Earlier, Nana Akufo-Addo paid courtesy calls on the Upper West Regional Minister, George Hikah Benson, the Chief Imam, former NPP Regional Chairman, the Yeri-Naa, the Akan Chief and Elders of Jengbeyiri.
Source:Cynthia Uche Addae