Aliu Tasks Media To Sustain Interest In HIV/AIDS Awareness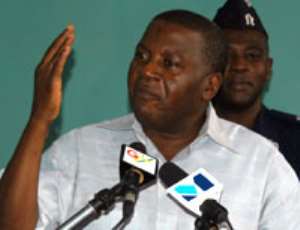 The Vice President Aliu Mahama yesterday tasked the media to sustain interest in HIV/AIDS awareness efforts to facilitate public discussions on the pandemic. 'We need to address this issue, reminding ourselves that being silent about HIV/AIDS is not the best way to sustain the aggressive drive and momentum that a fight against such a pandemic requires,' he said.
The Vice President was speaking at the launch of a month-long 2007 World AIDS Day activities on the theme: 'Leadership, Reducing Stigma and Discrimination.'
Alhaji Aliu said the media constituted a key partner in the national response and was a vital source of information, stressing: 'I expect their contribution to include accurate reporting and wide propagation of HIV/AIDS messages.'
'Each of us can and must make a difference,' he said, and called for the personal involvement of all to resolve not to get infected. 'We need to recognise that despite the availability of treatment, prevention through personal choices is the ultimate key to defeat the virus.'
Alhaji Aliu observed that the degree of degenerating enthusiasm across many levels and sectors of the national response and falling back on prevalence as exemplified in the 2006 sentinel survey showed an increase in prevalence in many geographical areas and age groups.
The Vice President noted that leadership by personal example was needed to reduce stigma and discrimination against People Living with HIV/AIDS (PLWHA).
Alhaji Aliu lauded the Ghana AIDS Commission (GAC) for embarking on a co-ordinated, accelerated and all embracing programme for the next five years. 'I also wish to acknowledge the tremendous financial support and technical assistance of the development partners since the inception of the national response.'
Prof. Sakyi Awuku Amoah, Director General of GAC, said since the first AIDS case was recorded in Ghana in 1986, a wide range of interventions had been introduced and called for a relentless and aggressive action to achieve the objectives of the national response. He said HIV/AIDS posed a major public health and development challenge to the nation.
'There is a lot that we need to do. We must be conscious of the fact that our national prevalence rate went up from 2.1 per cent in 2005 to 2.22 per cent in 2006 and we must achieve levels of behavioural change that will make a significant impact in current levels of prevalence rate.'
Mr Dauda Toure, Resident Director of the United Nations Development Programme, spoke against discrimination against PLWHA saying this led to a violation of their rights. He called on all sectors of society to accept the moral responsibility to fight the stigma.
Mr Sam Anyimadu Amaning of the Ghana HIV/AIDS Network called for innovative ways to manage HIV/AIDS such as the provision of good nutrition for Persons Living with HIV/AIDS. 'Time is running out. The time for talking is over. We need more action than words to succeed.'
Mr Clement Azigiwe, President of PLWHA said over 3,000 people were infected nationwide with over 200 voluntary associations managing them.
Prof. Fred Torgbor Sai, Presidential Adviser on HIV/AIDS and Reproductive Health, who chaired the function, called on the media to exhibit leadership qualities in tackling issues involving HIV/AIDS explaining that media coverage of the pandemic had become sluggish.