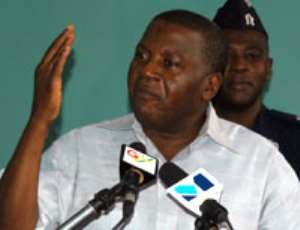 Vice President Alhaji Aliu Mahama yesterday told Ghanaian entrepreneurs that globalisation of Finance and Information and Communication Technology (ICT) has abolished segregated markets, hence the need for them to be competitive at home and abroad.
'We cannot be competitive at home and weak abroad. To be truly competitive, we must show an ability to attract international credit and state of the art technology,' he noted.
The Vice President Mahama made the observation when he inaugurated a multi-million- cedi ultra modern oil service station of Allied Oil Company Limited, a wholly owned Ghanaian oil company in Accra.
'We must build capacity to consistently turn out goods and services of a standard quality that is attractive in terms of price and quality. It is only then that we can say we are competitive.'
Vice President Mahama called on the oil companies to set aside some of their profits to support Government in the search for sustainable energy sources. He asked Allied Company to take its corporate responsibility seriously by forging a balancing act of marrying corporate profitability with social responsibility by extending its outlets into the rural communities, which use diesel fuel for agricultural and other economic purposes as well as kerosene for energy.
The company boasts of marketing seven million litres in 1999 rising to 95 million litres at the close of December 2006 with a turnover of 21.27 billion cedis and 735 billion cedis respectively. It had 300 retail outlets, which provides jobs for some 1,264.
Vice President Mahama said with a strong and independent private sector, national capacity to create jobs and incomes would be boosted tremendously, while the local workforce would become increasingly skilled and technology transfer accelerated.
Mr Joseph Kofi Adda, Minister for Energy said Government's deregulation policy had encouraged the private sector to invest in the oil sector. He said the policy had also improved on competition among the oil companies.
Mr Adda said Government would blacklist oil companies that engaged in dubious deals by falsifying labels of multi-national oil companies. The oil companies, he said must also adopt safety measures in order to avoid the recent fire disaster that engulfed a gas filling station in Kumasi, leading to lost of lives and property.
The Minister charged the security agencies to provide security to the oil companies to check the numerous armed robbery activities, the sector faced by investors in the industry.
Mr Dan Okudzeto, Chief Executive Officer of Allied Company said the ceremony marked the inauguration of three other stations at Kwame Nkrumah Circle, Zongo and Bubuashie in Accra built at the cost of three million dollars. The Ablelemkpe station, which is a flagship of the company, has a supermarket, washing bay and vulcanising service.