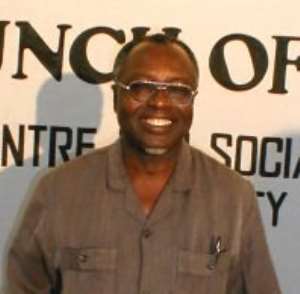 University students dismissed for examination malpractices manage to stay on campuses, attend lectures and graduate, a former Vice-Chancellor has said.
Professor Ivan Addae-Mensah, who was a former Vice-Chancellor of the University of Ghana, Legon, said that the growing phenomenon of cheating in examinations is fast eroding the high reputation and international recognition that the country's educational system has enjoyed for so many years.
He has, therefore, charged all public institutions responsible for the education and upbringing of the youth to put in place strict measures, ensure that the measures are rigorously enforced and deal decisively with all infractions of those measures.
"Under no circumstance should malpractice be condoned and strict discipline compromised, because academic excellence can only be achieved where discipline reigns," he added.
Prof Addae-Mensah was delivering a lecture on the topic: "Ethical issues in education and the future of our youth", in Accra.
The lecture, the 11th in the series, formed part of Ghana's 50th anniversary celebrations.
Prof Addae-Mensah said the phenomenon of cheating placed a very heavy intellectual and moral responsibility on any individual, institution or organisation charged with the administration of examinations.

"It is a job that cannot be treated lightly because how an examination authority conducts its examinations can make or unmake the future of any child and change the direction of the child's development forever, for better or for worse," he said.
"Every nation must be constantly concerned with the quality and mode of assessment of its educational system," he added.

Prof Addae-Mensah said in recent times the examination systems and the examination results being churned out at all levels had come under considerable public scrutiny.
"In our educational institutions, examination standards are being seriously compromised through all sorts of malpractice. Morality and honesty seem to be going to the dogs. Because of the intense competition for limited spaces in educational institutions, many students are looking for shortcuts to success. Cheating at examinations and forging of certificates and qualifications are, therefore, becoming rampant. This must not be allowed to continue," he added.
He cited many examples of impersonation during examinations in recent times, most especially at the country's universities, and lamented the fact that some of the students dismissed as a result of that continued to hang around.
"Some of them manage to hang around. They attend lectures, take examinations and even graduate. Immediately they graduate, they leave the country to work elsewhere. There is, therefore, the need to institute measures that will ensure that the computer systems immediately weed out such persons from the system so that they cannot take any examination again," he said.
Another serious ethical problem facing educators, Prof Addae-Mensah observed, was the drug issue, adding that it was an open secret that drug addiction began among students as early as their junior high school (JHS) days and continued into adulthood.
"But when our youth graduate from experimenting with drugs at an early age to actually become drug pushers and drug barons, then society is really in big trouble," he added.
While charging educational authorities to remain vigilant and disciplined and admonishing the youth on the ethical pitfalls they might fall into, Prof Addae-Mensah also tasked parents to critically examine themselves with regard to their roles in the upbringing of children.
"If we really examine ourselves critically and dispassionately, we may find that a lot of the unethical and anti-social practices our youth fall into may be traced to our own acts of omission and commission and our attitudes to our parental responsibilities, usually at very critical periods of our children's development," he said.
"A child is known to have told a teacher that his father could buy the teacher. Of course, why would a child not say such a thing to a teacher if he knew that the father paid bribe or encouraged him or her to use false pretences to gain admission to the school or the university?" he asked.
Prof Addae-Mensah said the country could not thrive if its citizens celebrated moral turpitude and despised moral uprightness.
"I know from experience that the vast majority of the youth are very capable and highly determined. What we the older generation need to do is to change, motivate and guide them. The future can be bright for the youth provided they seize the opportunities that come their way, without neces¬sarily cutting corners," he added.