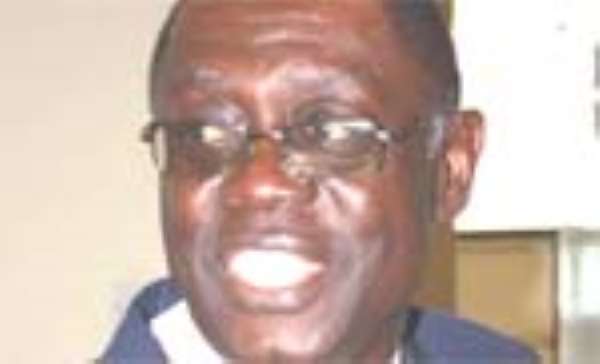 KWAMENA BARTELS, Minister of the Interior has advocated the use of part of the Members of Parliament (MPs') Common Fund to purchase relief items to support government efforts in addressing the plight of flood victims in the three Northern Regions.
He made this suggestion in a contribution to a statement on the floor of Parliament yesterday by Mr. Pele Abuga, MP for Chiana Paga, in reaction to finding a permanent solution to the development and progress of northern Ghana.
Mr. Abuga had earlier remarked that a special fund or development fund should be set up to immediately reverse the imbalance of development in the three regions.
"As an immediate measure, government this year should approve a special amount to each assembly in the North for the purpose of assisting all the villages and victims," he said.
He said it would take many years to restore normal livelihood to the people, claiming that in spite of the publicity given to the problem, as well as the intentions of government, not much has been done to stem the immediate suffering of the people.
"One bag of rice and a bag of maize were given to Nakolo with a population of 20,000 people and where about 200 houses had collapsed," he said, adding, "the story is not different in all the villages where an "olonka" bowl of maize is given to a household at the most."
Mr. Abuga advised that the nation must realize that when some of its people are impoverished and suffering, the rest also suffer and no progress is made.
Alhaji Abukari Sumani, the MP for Tamale North, stated that stories carried by the media did not portray the true feelings of the flood victims on the ground.
He claimed that relief items did not get to some of the people in the affected areas. "Some District Chief Executives sat on the relief items and it took three others to get the items released.
"Government should spend money in the rebuilding of houses instead of the mud houses they were living in," he urged.
In his contribution, the MP for Jirapa, Edward Kojo Salia, claimed that there was discrimination in distributing relief items to the victims.
Mr. Salia therefore recommended that a committee be selected from Parliament to take a second look at the situation and advise the august house accordingly.
"If a committee is not formed, further relief items will not be received by the victims," he claimed.
One thing for certain, however, is that the last rainy season in the North left in its wake an immense amount of destruction in property, infrastructure and human lives.
There were contributions from Mrs. Agnes Chigabatia, Deputy Upper East Regional Minister; Alban Bagbin, Minority Leader; Alhaji Boniface Saddique, Minister for Water Resources, Works and Housing and Ernest Debrah, Minister of Food and Agriculture.
By Wisdom Peter Awuku & Ethel Kangberee