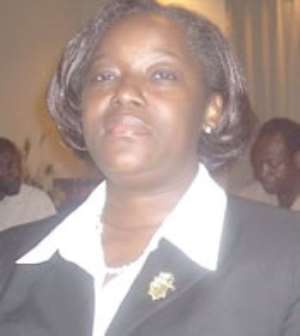 Ms Anna Bossman, Acting Commissioner of the Commission on Human Rights and Administrative Justice (CHRAJ)on Monday called for a strong political will in support of the anti-corruption campaign.
She said political will must be manifested not only in slogans and statements such as zero-tolerance but must be seen in the actions of politicians from the very top adding, "You must be prepared to walk the talk."
Ms Bossman was speaking at a public forum on the importance of conflict of interest in combating corruption as well as to build and restore public confidence in Ghana's public institutions.
The forum is the first of four workshops being organised by CHRAJ in Accra and Sunyani to educate and enlist the support of the public in the fight against corruption.
Ms. Bossman said the Executive must not only be seen to support the anti-corruption institutions in their campaigns but must ensure that it did not interfere with decisions taken by those agencies.
The support, she noted, could be in the form of improving and rationalizing anti-corruption legislation, adopting and adhering to international standards on corruption, and strengthening key governance institutions such as the CHRAJ, Serious Fraud Office, the Audit Service and the Attorney General.
Apart from insufficient funding from government and inadequate human resource skills, Ms Bossman said the issue of enforcement and prosecutorial powers had also been limitations to the fight against corruption.
She called for the decoupling of the Ministry of Justice and Attorney General and the appointment of an independent prosecutor to prosecute matters other than the Attorney General.

Mr Richard Quayson, Deputy Commissioner of CHRAJ who made a presentation on "Conflict of Interest and its importance in fighting corruption" said it referred to a situation where a public official's personal interest conflicts with or was likely to conflict with the performance of the functions of his or her office.
He said conflict of interest included the awarding of contracts by public officials to people who were not qualified but did so in order to satisfy their own private interests.
He urged public officials to study the "Guidelines on Conflict of Interests" developed by CHRAJ to assist them to identify, manage and resolve conflicts of interests to ensure that they served in the interest of the general public.
The 80-page guideline, he noted, was to protect the integrity of official policy and administrative decisions but not to prevent any public official from having any private interests.
Mr Eric Lamptey of the Audit Service said Asset Declaration in its present form did not enhance prevention of corruption and called for a review of the Constitution to enable the Auditor General to scrutinise Asset Declaration forms before taking decisions on them.