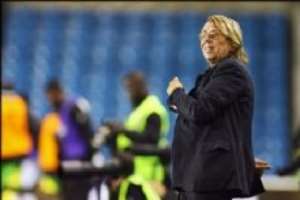 There were smiles, sighs of relief and glum faces in Accra on Friday after the draw for next year's African Cup of Nations was handed out.
But as the dust settled on a draw which had thrown out some tough fixtures, Ghana coach, Claude Le Roy took time off the euphoria that had engulfed the Accra International Conference Centre to assess opponents in Group A.
Ghana are seeded in the group with Namibia, Guinea and Morocco for the 26th edition of the Nations Cup.
And as the countdown to the start of Ghana's sixteenth campaign in the competition gets underway, Claude Le Roy in a post draw interview with the BBC conceded that the Black Stars were favourites to go through to the quarter finals from Group A.
However, the experienced coach says the Black Stars can expect a challenge from Guinea in the opening game.
"I think it's a very good game for an opening match, with a lot of very good players who are playing very well in Europe," Le Roy said.
"I know most of them very well – Ismael Bangoura and Pascal Feindouno are very, very top level strikers."
"We know that we have a good chance," he said, following the draw on Friday evening.
"Its not the toughest group in the competition."
Ghana, after the opening game play Namibia next, a side, Le Roy says he has little information on before taking on Morocco in the final group game.
The coach explains that he would be gathering information on Namibia from his former charges in the DR Congo, who played them in the qualifying tournament.
And on the final game with Morocco: "I know Morocco, Henri Michel is a very good coach. We played them a few weeks ago, they are also a strong team."
"We know that we are favourites of this group – and we know that if we want to win this competition we must win six games," Le Roy continued.
"I think we have a good chance to qualify for the next stage [but] we have to respect everybody."
The tournament, which is being hosted by Ghana, is to be staged between January 20 and February 10 in four major cities across the country.