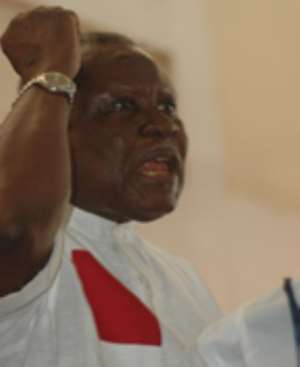 The former Senior Minister and Chairman of the National Development Planning Commission (NDPC), J.H. Mensah, bemused at the chronic failure and under-performance that appear to characterize national life, on Wednesday asked his audience at a public lecture if failure was in the Ghanaian's gene.
He was speaking at a lecture dubbed Ghana Speaks, which was jointly organised by the Institute of Democratic Governance, a think tank group, and Joy Fm on the theme; "Ghana @ 50: Observing African Excellence as Prelude to African Renaissance."
Using as a test case the nation's double failing at managing her for national airline, Ghana Airways, and the not too pleasant case of the 'new' Ghana International Airline, he wondered what could be the missing link while other national airlines were performing creditably.
"Three years ago Mr. Chairman, we had to wind up Ghana Airways with an accumulated load of a hundred and sixty million dollars in debt. We then proceeded to replace it with Ghana International Airlines. Up to now it seems, as the French would say, that the more things change the more they remain the same. The Ethiopian, the Kenyan, the South African and the Emirates airlines can service the Accra international hub with services of world class reliability and comfort. Then what is it that makes it seemingly impossible to operate Ghana-flagged airline services at a comparable level of international competitiveness? What is it? Is it in our genes?"
The former Senior Minister also observed that rather than generate its own resources to build its roads and other infrastructural needs, the country rather preferred to rely on donor support.
He said the Accra – Kumasi highway for instance has been under construction for the past six years and was yet to be completed, blaming the delay in completion on over reliance on donor support.
J.H. Mensah maintained that with road tolls, it was possible for the country to raise enough to finance her infrastructural needs.
"Six years ago Mr. Chairman, we embarked on a major project of national organisation and consolidation which was to build a modern dual carriage highway of superior specifications to link Accra and Kumasi, the first and second largest centres of economic activity in Ghana. Up till now, after six years, we have not completed the construction of even a single carriageway of that high quality road. Obviously, we have not been able to persuade overseas financial sources to help Ghana build a new highway."
He therefore advocated radical improvements in the nation's economic performance to propel it to excellent levels of standard of living.

"We have to convert the individual and the communal self-image of the Ghanaian at work from that of the present Third World, low performing, low income Black African, and replace it with a new image of higher standards of performance, new ways of doing things."

He gave Ghana a plus in her governance, but noted that the nation needed, as a first step to reach her emancipation, to overcome the hurdle of low expectation.