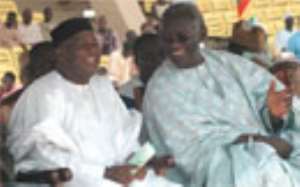 PRESIDENT JOHN Agyekum Kufuor on Saturday expressed his dissatisfaction with the persistent inefficiency that has characterized the organization of the annual Muslim pilgrimage to Mecca in recent times.
"Regrettably, this important spiritual obligation has in the past been fraught with many problems largely due to planning deficiencies, and I dare say, the pursuit of parochial self-interest by some members of the Hajj Committee," he stated.
The President said this when he joined thousands of Muslims including Vice President Aliu Mahama and some Muslim Ministers of State at the Independence Square to celebrate this year's Eid-Ul-Fitr festival.
He therefore cautioned the organisers of this year's pilgrimage, popularly called the Hajj, to ensure that the whole exercise was carried out smoothly and successfully.
"I demand that those entrusted with this onerous responsibility discharge their duties honourably and efficiently.
"They should not be enticed by lucre or a sense of profit from the transactions.
As devout Muslims, I need not remind you that thwarting the life-long ambition of a fellow Muslim in fulfilling this sacred obligation will be tantamount to acting against the holy teachings of Islam.
"Let this year's pilgrimage therefore be problem-free to serve as a refreshing reference point for future pilgrimages," he said.
President Kufuor, who congratulated Muslims on behalf of all Ghanaians, reminded the citizenry that despite the diversity of religious faiths and beliefs, the nation, constitutionally, remained a secular state "not defined by tribe, class or any other social nomenclature; we are all simply Ghanaians".
He said, "In spite of the vicissitudes that have attended our national development efforts, our adherence to this has seen us through the challenges of nation-building."
That quality of the nation, the President noted, had resulted in the fact that "today, we can pride ourselves as an oasis of peace within the turbulent sub-region and for this, we must be thankful to the Almighty God."
He called for attitudinal change in the use of national asset, and said with that and continued good governance and prudent economic management, "Ghana will be well on its way to attaining the goal of a middle-income status in the not-too-distant future".
In pursuit of the middle income status, "we as a people must also cultivate the virtues of patience, tolerance, and fellow-feeling and endeavour to eschew all forms of violence and anti-social conduct," the President remarked.
"The peace that we currently enjoy must never be taken for granted, but it should be nurtured and guarded jealously for the benefit of future generations."
He reiterated the need for every Ghanaian child of school-going age to be enrolled in school, saying, "In this rapidly globalizing world, the qualities that will give anyone a competitive advantage are intellectual and creative abilities which can only be cultivated through investment in a balanced education."
For the dream of every child going to school to materialize nationwide, President Kufuor challenged parents and opinion leaders in every community to be champions and active participants "so that the educational upliftment of your wards and children gets the much-needed attention.
"All of us should contribute our quota in building a Ghana whose liberty will not descend into chaos and whose freedom will be exercised with responsibility and fellow-feeling," he stated.
This year's Muslim gathering at the Independence Square was said to be among the largest in recent memory.
The crowd could be compared with the thousands of people that came to the same venue on March 6, 2007, when the nation celebrated her 50th independence anniversary. There was virtually no space on the grounds on Saturday.
Although several Muslims had started leaving the square before the President's arrival, several thousands waited to listen to him.
By Sylvanus Nana Kumi & Sheilla Sackey