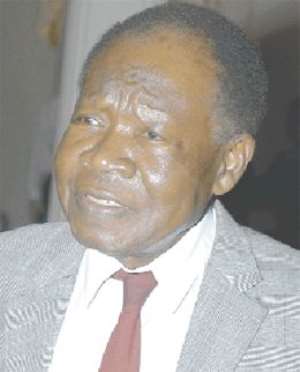 A Retired Ghanaian diplomat, Mr K. B. Asante, has called for the rejection of the notion that a public officer has to be a party member before he or she can promote the aims and objectives of government.
He, therefore, urged the government to have the courage to sack any public servant who was found to be sabotaging its policy and prescribed a ruthless handling of those who failed to measure up to competence, efficiency and loyalty to government programmes.
"We should disabuse our minds of the idea that a public officer has to be a party member before he or she can promote the aims and objectives of the party in power," he said in an interview with the Daily Graphic ahead of his Golden Jubilee Lecture tomorrow.
Mr Asante, himself an astute civil servant in the First Republic and now a columnist of the Daily Graphic, said without a good public service, the government could not execute its functions satisfactorily, pointing out that political parties would come and go but the public service would always be there to serve them.
He, however, observed that there was too much mutual suspicion between politicians and public servants and asked the government to effectively deal with that problem.
"Living with suspicion doesn't help with good administration and national development," he said, and was quick to add that the success of government policies and programmes required a highly motivated public service.
On the performance of the nation over the past 50 years, the Octogenarian diplomat, who still possesses a powerful voice and in good physical condition, said the nation had fared well in spite of the high expectation some people had after independence.
He noted that after independence, Ghana was not really a nation but a collection of ethnic entities, adding that the stance of the country's first President, Dr Kwame Nkrumah, against political parties based on ethnicity and religion did the nation a lot of good.
Mr Asante, therefore, expressed concern about recent developments which tended to undermine the unity of the nation.
Sharing some thoughts on education, Mr Asante, who is also a renowned educationist, said the old educational system before the Junior Secondary School (JSS) reforms were introduced did the nation a lot of good.
In his opinion, the JSS system did not succeed because the requisite resources were lacking, adding that, "it's not a question of developing a new system or changing or modifying a present system. It's a question of what we want of our young ones and what we can do with the resources available either now or in the near future".
Advertisement
Mr Asante suggested that all children of age six should be given a basic period of compulsory education with the view to making them become proficient in English and Mathematics, after which those who had the aptitude for secondary education could continue while others could go into technical and vocational institutions or apprenticeship.
"It's an indictment on our education system that pupils stay in school for nine years but can hardly read and write," he stressed.
According to Mr Asante, the nation was losing its self-confidence and self-reliance in managing its own affairs and stressed the need to rediscover those qualities.
He said although the private sector had been touted as the engine of economic growth and foreign direct investment had become critical in the current global economic dispensation, it was important for Ghanaians to recognise that no foreigner could manage the affairs of the nation better than Ghanaians.
"We can't be part of the global village if we don't take part in our development. We need to develop the country socially and economically.... We should not be doctrinaire in the method of implementation of projects and schemes," he cautioned.
Mr Asante said it was about time the nation decided the strategic areas of national development that required investment "and give incentives or promote local and foreign investment".
On the comparison of development normally made between Ghana and Malaysia, Mr Asante said the success story of Malaysia was based on political stability, specific objective of planning the country's development and a reliance on its public service for the implementation of the development plan.
On the other hand, he said, Ghana moved the opposite direction, citing the overthrow of the First Republic following which everything done by Dr Nkrumah was considered to be wrong.
Putting Ghana's foreign image under scrutiny, Mr Asante said the country's image had always been good, adding that it was important for the nation to make good use of many competent envoys it had.
Story by Kofi Yeboah